4 November 2019 | Krysten Barros
Keeping Brokenwood at the Top of its Game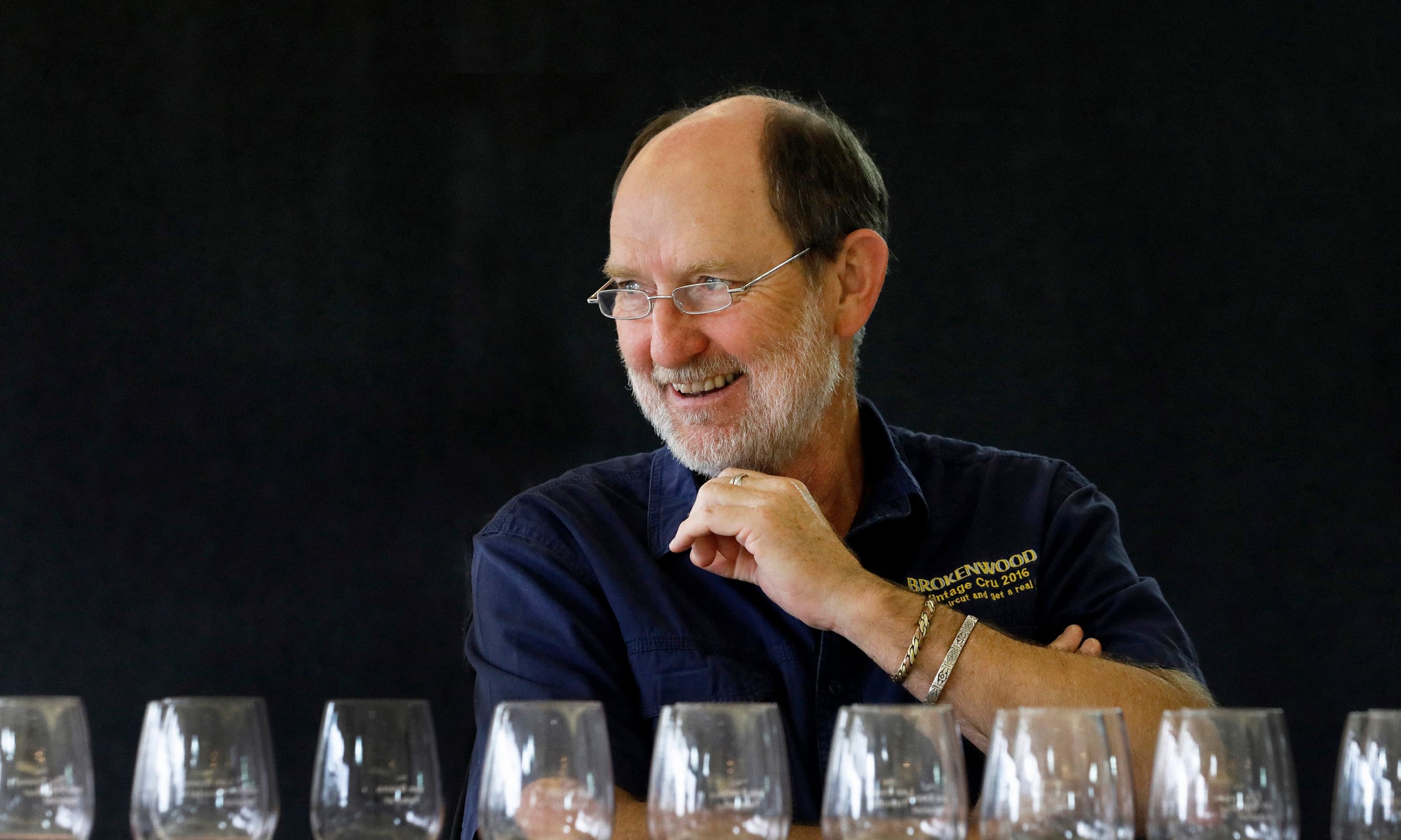 Article written by David Kermode - The Buyer
"Sampling new, 2019 Hunter Valley Semillon feels like a form of vinous infanticide," writes David Kermode, after tasting through the latest vintages of white and red with Iain Riggs, chief winemaker at Brokenwood. Having just completed his 48th vintage, Riggs can rightly be called one of the forefathers of Hunter Valley, taking a small scale winery in 1982 and turning it into one of the most highly regarded estates in Australia today. Riggs discusses Semillon, screw cap, Graveyard Shiraz (the 2017 has just been awarded a Best in Show at the 2019 Decanter World Wine Awards), climate and Dolly Parton styles of Chardonnay.
"Vintages matter a lot in the Hunter Valley. The vintage variation is really important and you need to know whether you're drinking a Semillon from a wet year, or a dry year," Riggs says
For something so criminally underrated elsewhere in the world, it is little surprise that Semillon arrived in Australia going by the inauspicious name "green grape". It went on to live a 'Walter Mitty' life, under various identities including Hock, Mosel, Chablis and White Burgundy before finally achieving status in its own right, with the correct name, in the early 1980s.
For all the indignity over what to call it, Semillon has – at least – never been short of love in Australia, thanks chiefly to the pioneers of the Hunter Valley. Iain Riggs could fairly be described as one of those founding fathers. Claiming, with a knowing wink, to have started winemaking when he was five, he has just finished his 37th vintage at the Hunter Valley's Brokenwood Wines, the 48th of his long and illustrious career.
Celebrated for its Semillon and Shiraz, it's hard to believe that when Riggs arrived in 1982, Brokenwood was a small scale hobby winery, producing only red wines: "I was the first employee and back then we were producing a few thousand cases."
Now chief winemaker, managing director and a part owner, Riggs has a groaning trophy cabinet that includes one of Australia's ultimate honours, as a Member of the Order of Australia (AM), in recognition of his work in the Hunter Valley and his broader role in the development of the country's wine industry.
With an international reputation as Sydney's wine region, the Hunter Valley is actually around two hours north, but metaphorically much closer to the hearts of Sydneysiders. It is Australia's oldest commercial wine region, with around 11 hectares that were planted before 1900.
It gets very hot and it also rains a lot, meaning humidity is a challenge. "We get a shitload of rain – that's a technical term – in January and February," Riggs tells me, "so vintages matter a lot in the Hunter Valley. The vintage variation is really important and you need to know whether you're drinking a Semillon from a wet year, or a dry year."
Brokenwood takes its name from the trees that were cleared when vines were first planted. Its prime vineyard, the Graveyard, thankfully has a less literal title: a reference to the original plans for the site – 16 hectares used for its flagship 300 bucks-a-bottle Shiraz. The icon white, a Semillon, is called ILR, after Riggs's own initials. It is always bottle-aged for six years before release.
Perhaps surprisingly, all the Brokenwood wines have been under screw cap since 2002. "Semillon under cork is wonderful," Riggs confesses, "but we were losing 50 per cent to oxidation at five years, so we had to change." Brokenwood has also adopted much larger oak formats – 500 litre puncheons – for the maturation of Chardonnay. Riggs believes Australian Chardonnay is at "the top of its game at the moment." Gone are what he describes as "the Dolly Parton styles," replaced by subtle oak, less skin contact, lower alcohol and far greater individuality.
The latest innovation is to switch all Brokenwood's wines to vegan certification, with an alternative fining agent to the current skimmed milk for next year's vintage.
It still feels odd to be tasting wines from the new 2019 vintage, even when they come from the other side of the world, and, given its great potential for ageing, sampling new Hunter Valley Semillon feels like a form of vinous infanticide. That said, the first of the wines on offer from Riggs, for a tasting and lunch at Marcus Wareing's Gilbert Scott, was already offering teasing hints of where it might lead – all the more remarkable given its 'entry-level' range status and relatively low price.
SO HOW DID THEY TASTE?
Hunter Valley Semillon 2019: with wafts of gentle citrus blossom and lemongrass, a robust acidic core of lime pith and Asian pear leads into a long, clean finish that underlines its ageing potential. An inexpensive wine to tuck away for future pleasure, that's precisely what I shall be doing.
Hunter Valley Semillon 2018: with the same bright blossom notes, pithy citrus, crisp mineral core and a slightly more balanced feel, thanks to its additional year in bottle.
ILR Reserve Semillon 2013: newly-released after six years of bottle ageing, the Icon Series white has no oak, no skin contact and no malolactic fermentation. The result is pure, yet powerful, with fresh lime zest opening into gentle aromas of bees wax. With its powerful acidity and low alcohol, the journey is just beginning for this elegant wine.
ILR Reserve Semillon 2011: powerful citrus aromas, with bees wax polish, wild honey and chicory, intense, yet precise, with broader shoulders and plenty of future ageing potential.
Indigo Chardonnay 2018: no Dolly Parton here, with aromas of struck match and grapefruit, Riggs says "it's all about acidity" in this wine, which is lean but not mean, with its juicy citrus core and subtle smoky notes.
Graveyard Vineyard Shiraz 2017: with a 2019 Decanter World Wine Awards 'Best In Show' trophy under its belt, vibrant red fruits, cherry and plum, lead into a medium bodied wine that elegantly holds its punches to deliver an experience that's smooth, silky and long.
Graveyard Vineyard Shiraz 2013: demonstrating its evolution in bottle, this offers graphite notes, perfumed cherry, foraged blackberry, a twist of spice and black pepper. The tannins are smooth and there's impressive complexity and concentration.