Cellar Door Wine Tasting Experiences
The Cellar Door offers a range of Wine Tasting Experiences which give you the opportunity to taste our premium and iconic Brokenwood wines. Choose your experience below and book through tock, or head to the Cru Bar + Pantry and enjoy a glass from our WineEmotion dispenser which serves rare wines not ordinarily available for tasting at the Cellar Door. If you have any questions please don't hesitate to contact our Cellar Door staff.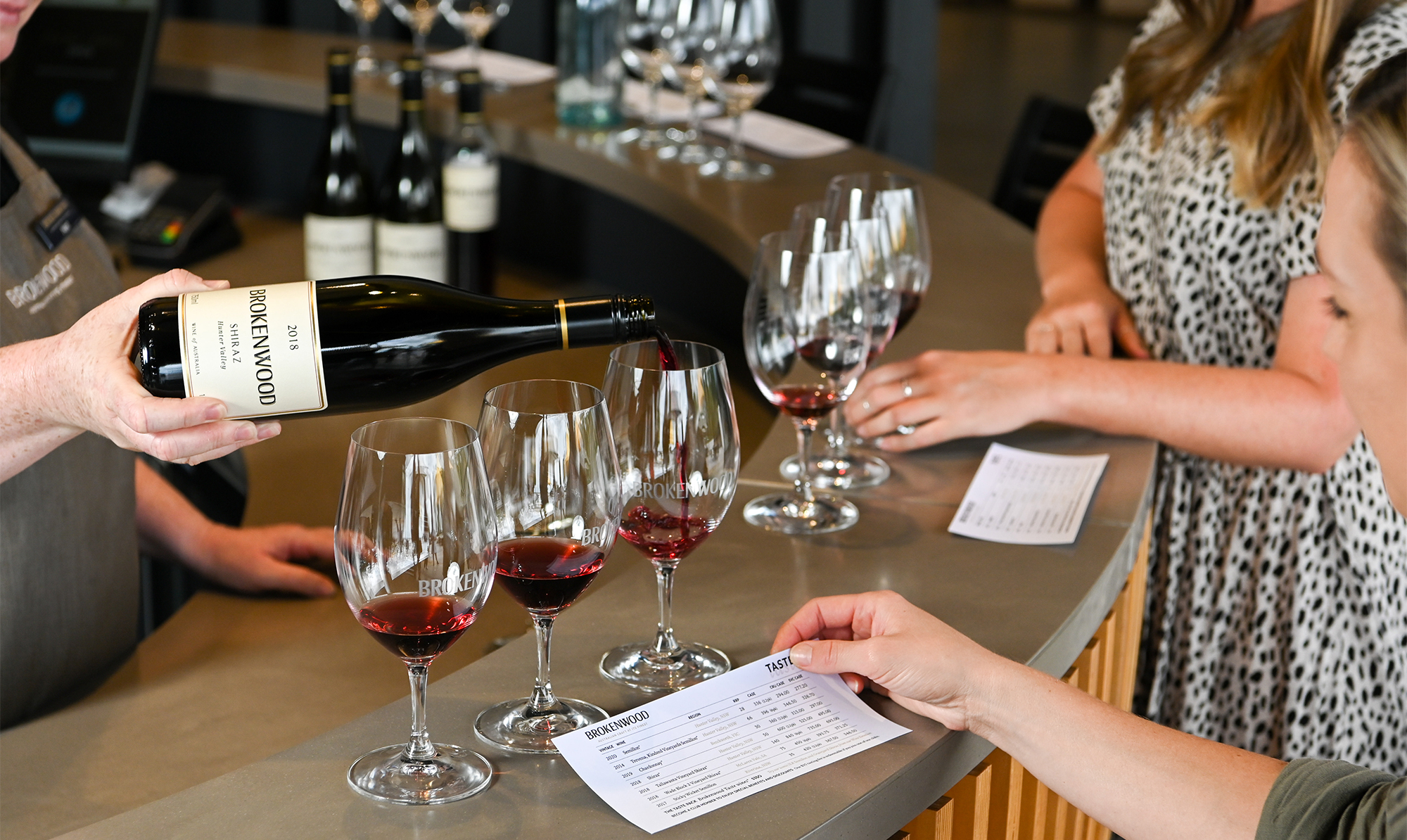 'Taste' Wine Tasting Experience
FOR THE WINE LOVER
Experience a wine tasting around one of our tasting pods hosted by a member of our Cellar Door Cru including a premium selection of 7 Brokenwood Varietal and Single Vineyard wines.
$25 PER PERSON / 45 MINUTES / OPEN 10AM SAT-SUN & 11AM WEEKDAYS – 4PM / EVERY HALF HOUR
* Complimentary for Cru and Single Vineyard Club members, for up to 6 people.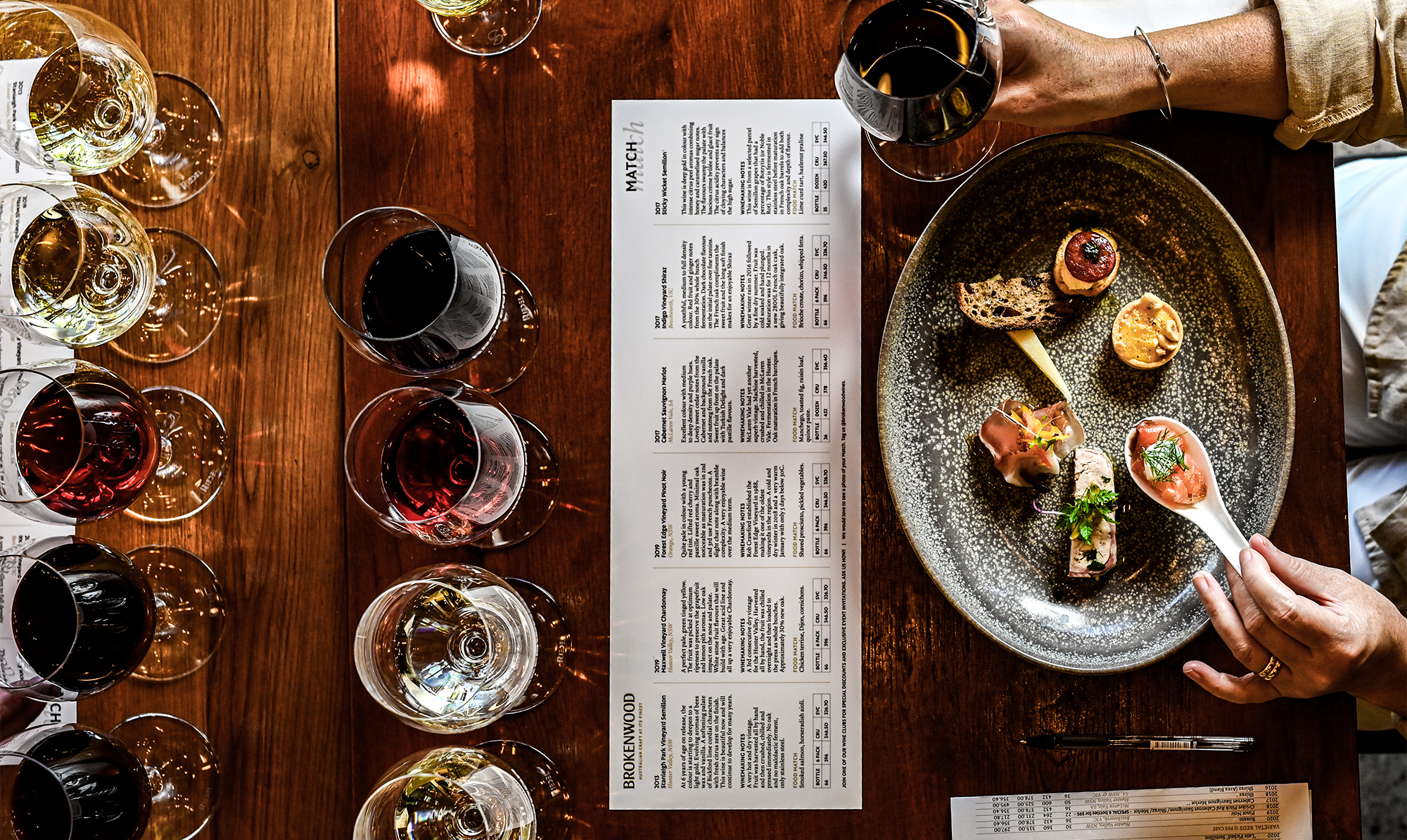 'Match' Wine Tasting Experience or 'Match + Dine'
FOR THE FOODIE
Enjoy a seated wine and food flight with a selection of 6 Brokenwood wines matched with bite-sized canapés served in The Wood Restaurant.

$66 PER PERSON / 45 MINUTES / DAILY
Continue your experience with your choice of main, side and dessert from our à la carte menu (additional $90pp).
$156 PER PERSON / 120 MINUTES / DAILY

*Complimentary Match (entree) for SVC members. Cru Club members may apply their 12.5% discount for up to 2 people.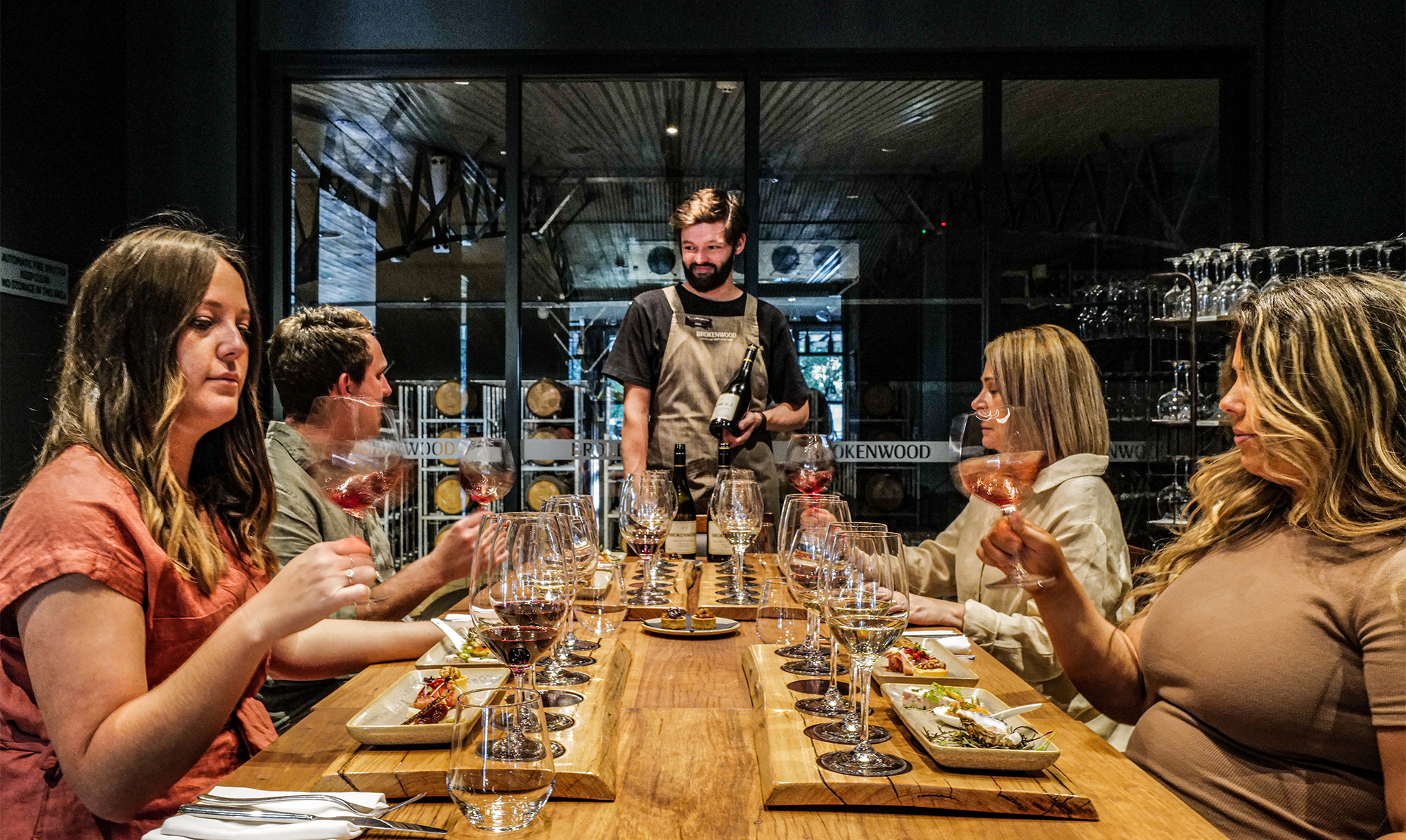 Journey Wine Tasting Experience
FOR THE WINE ENTHUSIAST
Indulge in an exclusive behind-the-scenes tour and taste for the ultimate Brokenwood experience. After a guided food and wine flight in our private tasting room, your personal host will take you on a tour to view the famous Graveyard Vineyard, ending with a pre-release wine tasting straight from the barrel. Available for guests over 18 years of age only.
$120 PER PERSON / 2 HOURS / 11AM / DAILY
*SVC & Cru Club members may apply their membership discounts, for up to 2 people.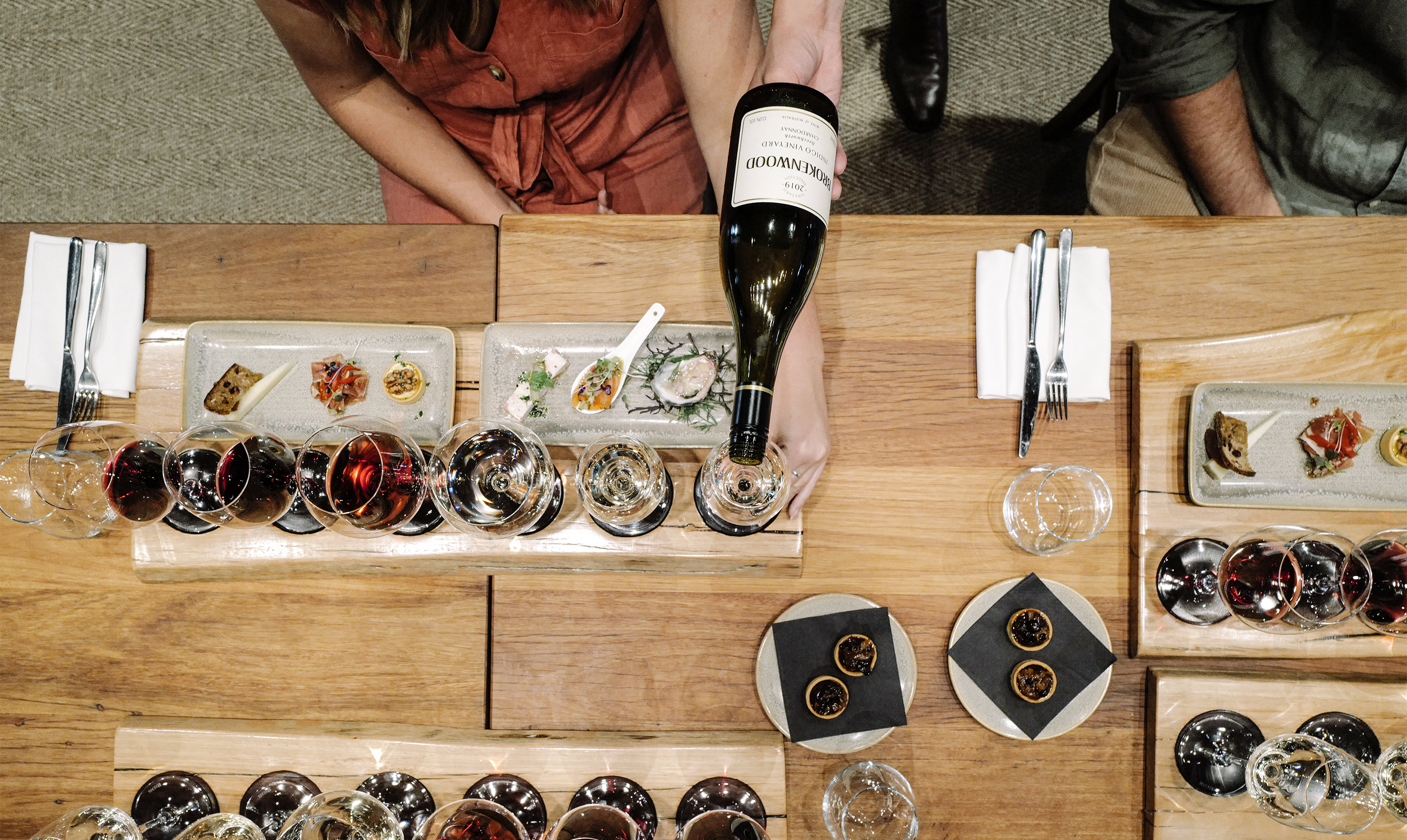 Icons of the Hunter Wine Tasting Experience
FOR THE QUINTESSENTIAL HUNTER VALLEY EXPERIENCE
Enjoy three of the Hunter Valley wine regions most iconic vineyards - Audrey Wilkinson, Tyrrells Wines and Brokenwood Wines as we team up to provide the Ultimate Hunter Valley Wine experience.

Each vineyard will host you as you immerse yourself in their signature wine experience to give you a truly premium and behind the scenes look into their vineyards, history and wine making processes.

$281 PER PERSON / 10AM TO 4PM / DAILY


VIP SOIL TO CELLAR EXPERIENCE
FOR THE ULTIMATE BROKENWOOD CELLAR DOOR EXPERIENCE
A rare opportunity to gain exclusive access to one of Australia's most iconic vineyards and taste Brokenwood's flagship Graveyard Vineyard Shiraz, whilst enjoying a unique and personalised soil-to-cellar experience. Brokenwood's Graveyard Vineyard Shiraz is consistently recognized as the best single site shiraz in New South Wales and sits in the top echelon of Australian wine.
$1260 PER PERSON / 11am - 3pm (4hrs) minimum 2 people maxium 6 people. View below for more information or book via sales@brokenwood.com.au