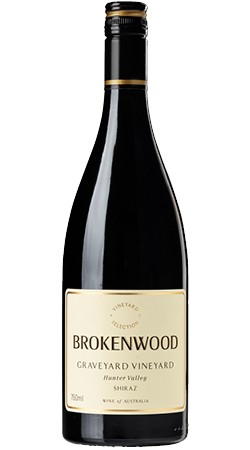 2017 Graveyard Vineyard Shiraz
Hunter Valley, NSW
2019 Decanter World Wine Awards - Best In Show Trophy
99 Points - James Halliday
98 Points - The Real Review - Huon Hooke
Ripe fruit notes of dark plum and cherry along with background vanillin oak. Rich in colour with deep red tints, due to
the low yield and low juice-to-skin ratio. For this wine, mostly large format puncheons and a 3000L cask are used. Dry ripe tannins give perfect structure and carry the sweet fruit right to the back palate. An impressive wine, which is a great follow on from the 2014 vintage. Subtle but powerful.
Rated by the Langton's Classification of Australian Wine V as Exceptional.
CRU $1575.00 SVC $1485.00
Wine Profile
Awards
Best in Show - 2019 Decanter World Wine Awards
Vinification
Processing started with 3-4 day cold soaking, then a 4-5 day ferment at 26-28C. The vineyard is on loam soil and gives a more floral character than those in red soils. The oak regime for this wine is 100% French, no new oak.
Winemaker Comments
The Hunter Valley has a long history of wet years being followed immediately by scorchers, 1997 – 1998, 2002 – 2003, and 2004 – 2005. The feature of these years is the previous year has a wet autumn, dry winter followed by a very hot summer. Another feature is the very high quality of Shiraz. We had 95% of our Shiraz picked before the extreme heat of the weekend 10th to 12th February 2017 that saw the temperature hit 44, 47 and 45C over the three-day period – staff and vines survived. This is our flagship release from a wonderful collection of 2017 Hunter Valley Shiraz wines from Brokenwood. All are characterised by deep colour and lifted ripe fruit.
Food Pairing
Pairs well with Osso bucco or slow roasted lamb shoulder.
Drink
Will improve with further bottle age.