7 May 2020 | Krysten Barros
Iain Riggs AM - End of an Era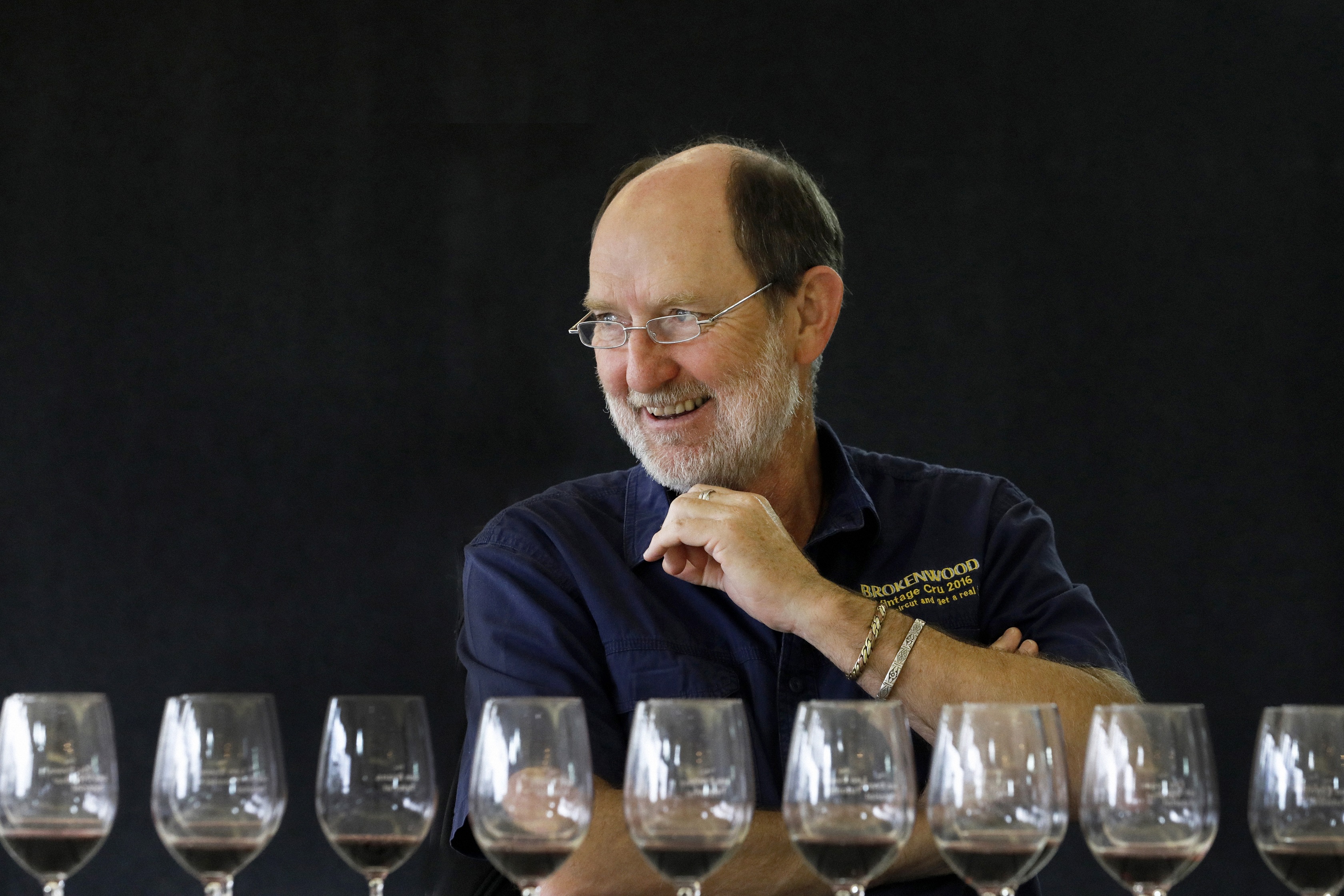 A message from our Chairman, Pete Draney
At the end of June this year, Iain Riggs ("Riggsie" to so many) is stepping down from his roles as Managing Director and Chief Wine Maker at Brokenwood. Riggsie and the Brokenwood board have agreed that "it's time" to pass the baton to the extraordinarily capable team at Brokenwood that is Riggsie's legacy. He won't be leaving Brokenwood. He'll remain a Director and, as a Consultant, he's agreed to continue to provide Brokenwood with his experience and expertise whenever we need it.
He has led the rise and rise of Brokenwood since the mid-1980s with singular fervour, dedication and ability, through the good times and the bad times. So many in the wine industry have watched in awe as he and his team turned Brokenwood from a weekend hobby into an icon Australian winery.
Just look around Brokenwood at Pokolbin in NSW's Hunter Valley and you'll be welcomed at one of Australia's premier wineries and its spectacular cellar door and restaurant complex. The words "Brokenwood", "Riggsie" and "Fine Australian wine" are interchangeable to thousands of wine loving Aussies and indeed many from overseas as well.
He's a multi-award winner too. In 2003, Iain was awarded the Graham Gregory Award for outstanding service to the NSW wine industry and at the 2013 Gourmet Traveller Wine Magazine Winemaker of the Year Awards honoured Iain with the Len Evans Award for Leadership. In 2016, the Australian Women in Wine Awards recognised Iain and Brokenwood Wines as the Workplace Champion of Change for a long history of promoting women within the workplace.
Today, Iain is Chairman of Trustees of the Len Evans Foundation that conducts the prestigious week-long Len Evans Tutorial, and current Chairman of the Shanghai International Wine Challenge.
In June of 2018 Iain was named as a Member of the Order of Australia (AM) in recognition of his significant service to oenology as a Winemaker, to the development of the Australian wine industry, and to the promotion of the Hunter Valley region.
Iain is the driving force behind Brokenwood's flagship wine, the Graveyard Vineyard Shiraz and its promotion as a unique Single Vineyard Shiraz. Rated as Exceptional in the Langton's Classification of Australian Wine, it is still the only Hunter Valley Shiraz to feature. A number of other premium Brokenwood Shiraz feature in the portfolio including the Mistress Block Vineyard Shiraz, Verona Vineyard Shiraz, Wade Block 2 Vineyard Shiraz and the Indigo Vineyard Shiraz. Iain is also a great promoter of Hunter Valley Semillon with the highly acclaimed ILR (Iain Leslie Riggs) Reserve Semillon as the Brokenwood flagship white.
Pete Draney
Chairman