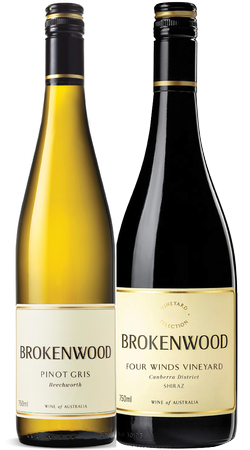 Virtual Tasting Pack 2
Virtual Tasting with our Senior Winemaker Stuart Horden, in the lab.
Pack Includes:
1 x 2021 Pinot Gris, Beechworth VIC
Pinot Gris grapes can be quite coloured, even pink in some years; this wine is a lovely yellow/green. The initial palate of ginger, pear and beeswax is carried by a zesty acidic backbone. Excellent fruit weight on the palate and not too high in alcohol at 12.5%. A delightful Pinot Gris that just asks to be consumed.
1 x 2019 Four Winds Vineyard Shiraz, Canberra District ACT
Bright youthful colour and medium density, not unlike a Hunter Shiraz. Pepper and red spice notes reflect the Canberra region, accompanied by Bramble and berry fruit characters and briar wood. Lovely even flow to the palate, medium weight with dark fruit and fine grained tannins from the perfectly ripe grapes and quality French oak. This is the 7th release of this single block Shiraz and it is a standout.