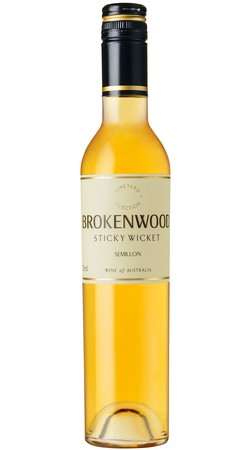 2013 Sticky Wicket Semillon Sauvignon Blanc
South Eastern Australia
Burnished gold colour with lifted glace fruit/peel aromas. Although low in alcohol, it has a luscious mouth feel from the retained sugar. Crème Brûlée and peel flavours continue on the palate supported by a zesty citrus acid. A superb dessert rich style without any cloying characters.
CRU $367.50 SVC $346.50
Wine Profile
Vinification
The raisin fruit usually requires a period of 'soaking' so that when pressed the high sugar juice is extracted. Sulphur and chilling is used to prevent wild yeast gaining hold. The ferment is usually slow due to the high sugar. The decision to stop the ferment (by chilling) is made depending on the balance of acid, alcohol and sugar. This style is fermented in stainless steel and bottled immediately to retain freshness and characters.
Winemaker Comments
This wine is from a specially selected parcel of Semillon grapes that had a percentage of Botrytis or Noble Rot as it is sometimes known. A combination of the Botrytis and raisin fruit has allowed a luscious dessert style to be made.The Botrytris infection of the grapes results in two things – one being the dehydration of the berry which causes concentration of fruit flavour as well as sugar and two being the added flavour (in a positive sense) of the Botrytis mould itself. The varietal break up for this wine is 75% Semillon and 25% Sauvignon Blanc.
Food Pairing
Fresh fruit, especially peaches, light dessert or over ice-cream.
Drink
Drinking well now but will improve with further bottle age.