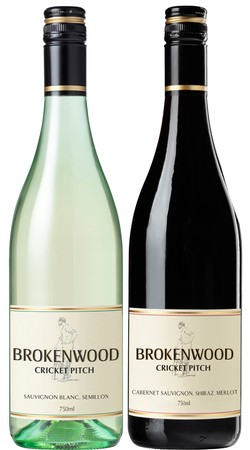 Hit for Six | 6pack
3 bottles each of:
2022 Cricket Pitch White Sauvignon Blanc/Semillon
Excellent green/yellow colour. Our style for this wine is to not have too many green grassy characters, but more lifted tropical Sauvignon Blanc aromas and melon notes. Lovely soft round entry on the palate and even at 12.5% there is plenty of fruit richness. Grapefruit flavours and a zesty acidity give a pleasing finish to the wine. A perfect summer drink and great with a wide range of food.
2021 Cricket Pitch Red Cabernet Sauvignon/Merlot/Shiraz
Medium density colour and youthful tints. Predominantly Cabernet Sauvignon giving red fruit and earthy tobacco notes. Generous palate flavours and ripe fine tannins. This wine is all about the fruit, although some oak vanillin and tannin in the background. A modern style of Cricket Pitch Red with bright red fruit characters, low tannins and an easy drinkability.
RRP $132.00 | NOW $95.00