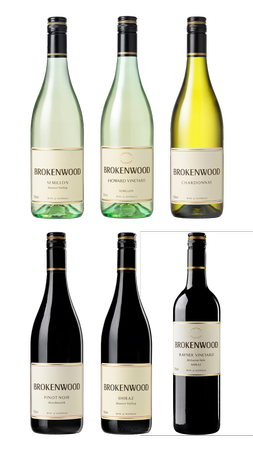 Brokenwood Mixed Taste Pack
Taste Six Pack
1 x 2020 Semillon, Hunter Valley, NSW
Vibrant in colour – a touch more than usual due to the warm year. Lovely florals and lemon grass aromas. Mouth filling flavours of pear and lemon pith balancing the zesty acid backbone. Slightly richer in style than the previous years, a classic Hunter Valley Semillon to enjoy now or age gracefully.
1 x 2013 Howard Vineyard Semillon, Hunter Valley, NSW
The warmer weather has resulted in great fruit intensity. The colours in 2013 are outstanding, lots of luminous green tints. On release at nearly 6 years bottle age, there is a hint of development with toast and brioche notes. Flavours of lime juice cordial, lemon zest and the tangy acidity aids the long finish. A beautiful example of Hunter Semillon – perfect now or over the next 10 years.
1 x 2020 Chardonnay, Margaret River, WA
A perfect pale yellow colour, tinged with green. The fruit was picked at optimum ripeness to capture the grapefruit and stonefruit aromas. Balanced French oak on the nose and palate but the hint of vanillin sweetness compliments the Chardonnay fruit. Tropical flavours that will build with bottle age. Great acid line and all up a very enjoyable Chardonnay.
1 x 2020 Pinot Noir, Tamar Valley, East Coast, & Jordan Valley, TAS
Red berry and bramble fruit notes with a slight Campari edge – very attractive aromas. A much brighter colour from the 2019 vintage. The palate starts out with crunchy red fruits complimented by the whole bunch used in fermentation. Lovely ripe tannins with a fresh acid backbone to carry the flavours right to the finish. The lingering after taste makes for a very enjoyable Pinot Noir.
1 x 2019 Shiraz, Hunter Valley, NSW
Lovely mid depth colour with purple tints. Lifted red spice, ginger and earthy notes on the aroma. Ripe fruit and low oak impact on the palate, with the new oak providing a slight vanillin sweetness complimenting the ripe fruit. The ripe fruit tannins are perfect and with the acid give a very long finish to the wine. Typical medium bodied Hunter Valley Shiraz from a very good year that will reward for many years.
1 x 2018 Rayner Shiraz, McLaren Vale, SA
Another great release for this iconic Single Vineyard wine. A lovely colour which is not quite as dense as some previous McLaren Vale wines. Dark fruit pastille aromas, plum and vanillin oak in the background. Sweet fruit entry on the palate, dark chocolate and a medium to full-bodied mouth feel. A stylish Shiraz and one to age over the long term.