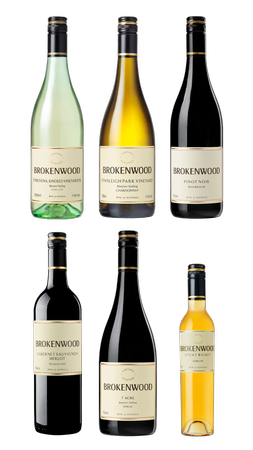 Brokenwood Mixed Match Pack
Match Six Pack
1 x 2014 Trevena, Kindred Vineyards Semillon, Hunter Valley, NSW
The wine has a very appealing green tint on release at four years bottle age. The citrus, lemon grass notes are starting to morph into cut grass and will ultimately end up as bees wax and toast after 7+ years bottle age. With lovely limejuice acidity, this Trevena, Kindred blend while very enjoyable now will reward cellaring.
1 x 2020 Stanleigh Park Vineyard Chardonnay, Hunter Valley, NSW
Careful winemaking has resulted in a perfect green tinted yellow colour. Excellent complexity on the nose and palate after pressing whole bunches and a wild ferment in barrel. Cashew notes from the fine French oak compliment the white peach and grapefruit characters. A very fine and delicate Chardonnay that will evolve over the next few years.
1 x 2020 Pinot Noir, Tamar Valley, East Coast, & Jordan Valley, TAS
Red berry and bramble fruit notes with a slight Campari edge – very attractive aromas. A much brighter colour from the 2019 vintage. The palate starts out with crunchy red fruits complimented by the whole bunch used in fermentation. Lovely ripe tannins with a fresh acid backbone to carry the flavours right to the finish. The lingering after taste makes for a very enjoyable Pinot Noir.
1 x 2019 Cabernet Sauvingnon Merlot, McLaren Vale, SA
Excellent colour with medium to deep density and purple hues. Lovely sweet cedar notes from the Cabernet and background vanillin and nutmeg from the French oak. Sweet fruit up front on the palate with Turkish Delight and dark pastille flavours. Fine tannins carry to finish. An immensely enjoyable wine that will reward cellaring.
1 x 2018 7 Acre Shiraz, Hunter Valley, NSW
Medium density colour; the nose and entry on the palate is very much Hunter Valley with red fruit, plums, earthy sweet and slight iodine combined with soft fine tannins. Matured in large format French oak – mainly puncheons with approximately 10% new oak. An elegant, medium bodied Shiraz that will reward cellaring over the next 10 years.
1 x 2013 Sticky Wicket Semillon Sauvignon Blanc, Riverina NSW
Burnished gold colour with lifted glace fruit/peel aromas. Although low in alcohol, it has a luscious mouth feel from the retained sugar. Crème Brûlée and peel flavours continue on the palate supported by a zesty citrus acid. A superb dessert rich style without any cloying characters.