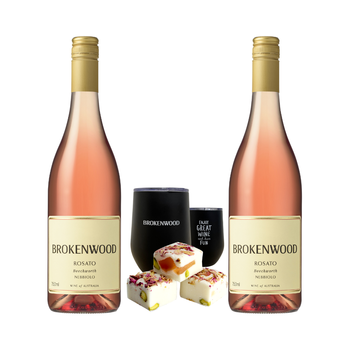 Rosato | Gift Pack
Delight with a gift pack for two! This pack includes Rosato, wine tumblers and home made rosewater & turkish delight nougat all packaged to perfection for you to spoil a friend, loved one or yourself.
Pack includes:
2 x 2021 Rosato
A blend of Mediterranean grape varietals; Nebbiolo, Sangiovese & Tempranillo. The colour is a very appealing pale salmon. Nebbiolo has a floral element to its aroma and this dominates with almost but not quite, rose water and Turkish delight in the background. The palate has vibrant spice/ginger notes and while technically a red wine, has plenty of zesty acid.
2 x Brokenwood picnic wine tumblers
2 x boxes of housemade Rosewater & Turkish Delight nougat from the Cru Bar + Pantry.
From Friday 3rd of December to midnight Sunday 5th of December, we're donating $1 to the McGrath Foundation for every bottle of 2021 Rosato sold.