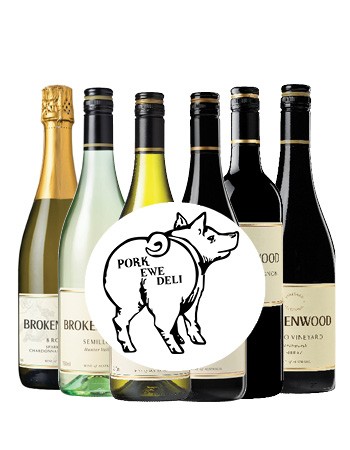 Pork Ewe Deli Members Pack
Click here to become a Pork Ewe Deli member.
1 bottle each of:
NV Sparkling Chardonnay Pinot Noir
Pale straw with youthful hues, this sparkling wine is crystal clear with a fine persistent bead. The bouquet shows lifted citrus and strawberry fruit characters. The palate exhibits fresh berry fruit flavours, soft and creamy light yeast characters with a fine structure. It finishes with a lively effervescence and a crisp natural tangy acid finish.
2020 Pinot Gris, Currency Creek, SA
Our newest release Pinot Gris comes from the Currency Creek region of the Fleurieu Peninsula in South Australia.
Pinot Gris grapes can be quite coloured, even pink in some years; this wine is a lovely yellow/green. The initial palate of nashi pear and beeswax is carried by a zesty acidic backbone. Being a slightly warmer vintage, the palate carries more weight and richness. A delightful Pinot Gris that just asks to be consumed.
2019 Chardonnay, Beechworth VIC
Perfect, pale green colour and lifted grapefruit aromas. The minimal oak sits nicely with the fine, juicy citrus flavours on the palate accompanied by subtle bran meal. The driving force of this wine is the acidity – long and pure. Approximately 90% from Beechworth and the balance from Orange, the final components of this wine basically selected themselves. Another top-notch vintage!
2019 Pinot Noir, Beechworth, VIC
94 Points - National Liquor News
Red berry and bramble fruit notes tending into dark plum – very attractive aromas. A slightly deeper colour from the 2019 vintage. The palate starts out bolder with dark red fruits and sweet edges from the French oak used. Lovely ripe tannins and a good acid backbone carries the flavours right to the finish. The lingering after taste makes for a very enjoyable Pinot Noir.
2019 Indigo Vineyard Tempranillo, Beechworth, VIC
Mid density colour, with youthful purple hues. Lifted red berry and red jube fruit aromas carry to the palate with a low acid and soft tannin finish. Sweet, earthy and dark cherry flavours. A complete wine to be enjoyed over the medium to long term.
2013 Sticky Wicket Semillon, New South Wales
This wine is deep gold in colour with intense citrus peel aromas combining honey and caramelised sugar notes. The flavours swamp the palate, luscious crème brûlée, glacé fruit and sweetness. The citrus acidity prevents any sign of cloying characters and balances the high sugar. A perfect example of our Sticky Wicket.
RRP $222.00 NOW $180.00 AND FREE SHIPPING