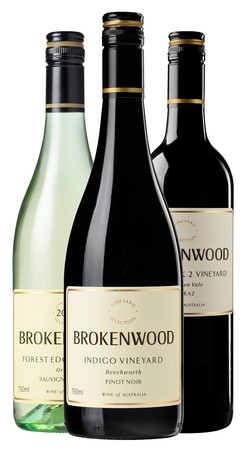 Australian Tour Pack
1 bottle each of:
Semillon, Hunter Valley, NSW
Great fruit intensity and the colours are outstanding with lots of luminous green tints. Lifted aromas of citrus/lemongrass notes. Sweet fruit flavours with great lime juice acidity. This is an outstanding young Hunter Valley Semillon and great drinking now or will age gracefully if a more mature style is desired.
Pinot Gris, Beechworth, VIC
Pinot Gris grapes can be quite coloured, even pink in some years; this wine is a lovely yellow/green. The initial palate of pear and beeswax is carried by a zesty acidic backbone. Pinot Gris can have a touch of phenolic 'grip', but at 12.5% alcohol this wine is bright and zippy.
Forest Edge Vineyard Sauvignon Blanc, Orange, NSW
Very pleasing colour and youthful green tints evident. Bottled and released early, the aromas are all about tropical fruit. Lifted passionfruit and citrus. Lively palate with grapefruit notes and a long lime juice acid finish. As we have said before 'everything a Sauvignon Blanc should be'.
Indigo Vineyard Pinot Noir, Beechworth, VIC
Lovely mid density colour with youthful purple tints. Earthy forest notes on the aroma from the French oak and whole bunch inclusion. Initial flavours of ripe strawberry and candied pomegranate. Beautifully balanced palate, ripe tannins, sweet fruit and perfect acid back bone. A Pinot Noir that will build in complexity with further bottle age or rewarding now.
Wade Block 2 Vineyard Shiraz, McLaren Vale, SA
Vibrant, youthful colour; medium density and lovely purple tints. Being a cooler year the aromas are more on the spice cherry side than ripe and opulent. The alcohol is still 14%. Medium weight palate and again spice and savoury edges. The tell-tale McLaren Vale jube fruit is there along with background oak.
Shiraz, Hunter Valley, NSW
Lifted fresh red fruit and spice characters. The colour still a vibrant deep red. Lovely savoury, red cherry flavours and fine grained tannin from the perfectly ripe fruit and French oak. The oak takes a background seat due to the use of puncheons and mostly older oak. This is a fine Hunter Valley Shiraz.
RRP $259.00 NOW $219.00 AND FREE SHIPPING