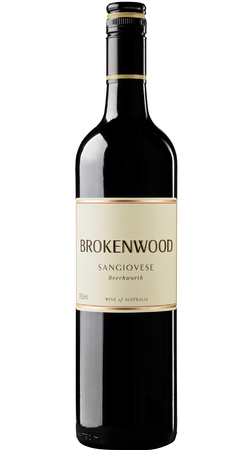 2023 Sangiovese
New Release
Beechworth, VIC
Vibrant young colours and medium density. Very fragrant and appealing nose of red/maraschino cherry aromas with varietal dried herbs in the background. Bright, savoury Sangiovese fruit on the palate with juicy acidity. Typical drying tannins and red spice/ginger notes with a great finish. Immensely enjoyable.
CRU $378.00 I SVC $356.40
Wine Profile
Winemaker Comments
Brokenwood winemakers and crew don't need too much encouragement to taste a range of world wine styles and one of our favourite countries is Italy. Add to this a progression of young winemakers from Italy over the years espousing the qualities of Sangiovese and Nebbiolo; it is not surprising to see these varieties under the Brokenwood label. A milder and later than average growing season was the dominant factor in Beechworth for vintage 2022. Above average rainfall throughout 2021 made for a challenging growing season with disease pressure a constant. January was wet, with 140mm falling for the month. Thankfully the rain cleared for February, allowing the vineyard to dry off. These conditions resulted in wonderful fruit and tannin ripeness.
Food Pairing
Pasta, of course, or a classic Australian BBQ.
Production
Processing started with 3-4 day cold soaking and then a cooler 6 day ferment to retain fruit purity. The oak regime with this wine matured in older French oak puncheons for six months.
Drink
Drinking well now but will improve with further bottle age.