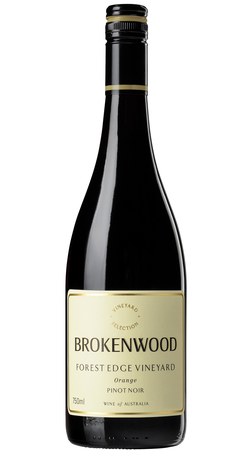 2019 Forest Edge Vineyard Pinot Noir
Orange, NSW
Quite pale in colour with a young red tint. Lifted red cherry and pastille sweet aroma. Minimal oak noticeable as maturation was in 2nd and 3rd use French puncheons. A slight char note along with bramble complexity. A very enjoyable wine over the medium term.

CRU $346.50 SVC $326.70
Wine Profile
Vinification
Retention of fruit character is always important. Processing involved cold soak of the must for a few days and included approximately 10% whole bunches in the ferment. No post ferment maceration was undertaken. Oak maturation was predominantly used in French oak barriques and bottled at the 10 month mark. These vines are clone MV6.
Winemaker Comments
The Orange district is widely recognised as one of Australia's premium cool climate regions. Rob Crawford established the Forest Edge Vineyard in 1988, making it one of the oldest vineyards in the region. 2017 is the 18th vintage Brokenwood has taken Forest Edge fruit. A very wet winter was recorded between April and September 2016 with 902mm of rain, very different in contrast to 2015, which was quite cold and dry. This aided a very strong bud burst and spring growth. The 100mm in December was a welcome top up as January and February were scorchers. Harvest was pushed back by several factors across most of Australia, cold wet winter, higher crop loads and a very hot summer. We picked the Forest Edge Pinot Noir on 20th March and before the skies opened on the 22nd March.
Food Pairing
Pairs well with duck, quail and steak tartare.
Drink
Drink now or in the medium term.