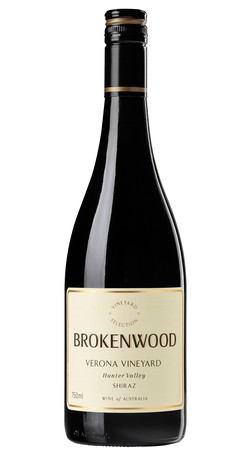 2018 Verona Vineyard Shiraz
Hunter Valley, NSW
Lovely depth of colour along with purple tints due to the dry year and slightly riper fruit. Verona Vineyard Shiraz is always characterised by the soft sweet plum pastille fruit note. This carries to the palate with background vanillin oak with most of the wine in a 2700L cask. Fine ripe tannins add to the fruit density, with some liquorice notes and persistent after taste. A Shiraz to age for many years.
CRU $525.00 SVC $495.00
Wine Profile
Vinification
Processing started with 3-4 day cold soaking and clay then a 4-5 day ferment at 26-28C. The vineyard is on loam soil and gives a more floral character to those in red soils. The oak regime for this wine is 100% French, no new oak.
Winemaker Comments
The Verona Vineyard is across the road from the Graveyard Vineyard and has been under Brokenwood's care for the past fifteen years. First planted in 1968, the original cuttings are from old vineyards in the region. This is the fifth bottling of Verona as a Single Vineyard wine. The Hunter Valley has a long history of wet years being followed immediately by scorchers, 1997 – 1998, 2002 – 2003, and 2004 – 2005. The feature of these years is the previous year has a wet autumn, dry winter followed by a very hot summer. Another feature is the very high quality of Shiraz. We had 95% of our Shiraz picked before the extreme heat of the weekend 10th to 12th February 2017 that saw the temperature hit 44, 47 and 45C over the three-day period. Staff and vines survived and this is the first release of a wonderful collection of 2017 Single Vineyard Hunter Valley Shiraz wines from Brokenwood. All are characterised by deep colour and lifted ripe fruit.
Food Pairing
Osso bucco, steak, lamb and cheese.
Drink
Drinking very well now but will benefit from many years of cellaring.