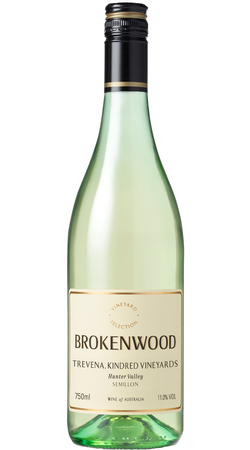 2014 Trevena, Kindred Vineyards Semillon
Hunter Valley, NSW
The wine has a very appealing green tint on release at four years bottle age. The citrus, lemon grass notes are starting to morph into cut grass and will ultimately end up as bees wax and toast after 7+ years bottle age. With lovely limejuice acidity, this Trevena, Kindred blend while very enjoyable now will reward cellaring.
95 Points - The Real Review
CRU $346.50 SVC $326.70
Wine Profile
Vinification
Harvesting all by hand. The fruit was crushed, chilled and pressed immediately. Neutral yeasts were used for the fermentation, bottled in July. No oak and no malolactic ferment, only stainless steel.
Winemaker Comments
Winemaker Iain Riggs made the comment during vintage 2014 that he thought in 32 years there were no more surprises left. Except of course starting to pick on the 8th of January. Once upon a time, before the private irrigation scheme went through the valley, some Shiraz was picked in late January but Semillon was always early February. Not so any more. The winter and the spring of 2013 were very dry, in fact 207mm in the last 5 months of the year. Lower crop and low foliage equals early picking except vintage 2014 was not too dissimilar to 2000. Lots of vineyard walks and discussion saw the decision to pick a bit riper which meant slighty higher alcohols. But everything is still under 12% just no low 10's. A rare blend of two of our best parcels, brought about due to the riper fruit coming in, in 2014. Not dissimilar rationale to the now beautifully aged 2005 Brycefield, Belford Semillon. The Trevena Vineyard was planted in 1920 and is an important Heritage vineyard. Kindred is approaching 40 years of age and adds a touch of richness to the blend.
Food Pairing
Asian food, any seafood especially freshly shucked oysters.
Drink
Drinking well now but will improve with further bottle age.