Kate Sturgess
Winemaker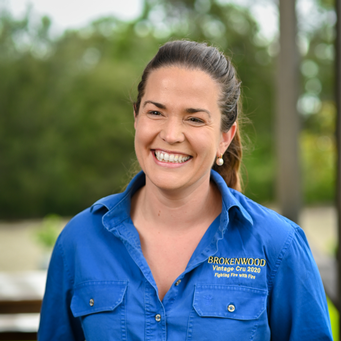 Kate Sturgess joined Brokenwood Wines in 2015 as Assistant Winemaker and was promoted to Winemaker in 2019.
Her love of science and a desire to work outside encouraged Kate to take a leap of faith moving from Brisbane to Adelaide to complete her Bachelor of Viticulture and Oenology at the University of Adelaide in 2011. Kate's experience extends through a number of Australian wine regions as well as time at Culmina Estate, Okanagan Valley, Canada in 2012. Here in Australia, Kate gained experience at Wirra Wirra, De Iuliis Wines, Mount Langi Ghiran, and as Assistant Winemaker at Balnaves of Coonawarra.
Kate has been integral in revitalising the Hunter Valley Young Winemaker's Tasting Group through the Hunter Valley Wine and Tourism Association (HVWTA), and was nominated for Winemaker of the Year at the Hunter Valley Legends Awards 2021. One of Kate's professional highlights has been Brokenwood Wines winning James Halliday's 'Wine of the Year' with the 2018 Brokenwood Wines Graveyard Vineyard Shiraz. Kate was also named in the Top 50 of 2018 Young Guns of Wine – she was the Hunter Valley's sole representative, and 1 of 4 to be selected from NSW.
Kate has been included in the 2021/2022 cohort of Wine Australia's Future Leaders program. Funded by the sector and coordinated by Wine Australia, Future Leaders is a biennial program offered to applicants with open, creative, inquisitive minds who are typically early to mid-career and already demonstrating leadership potential. "Gaining a place in the Future Leaders program for me means building a pathway towards being able to enact real change within the Australian wine industry to make sure it is wholly inclusive and sustainable for future generations" – Kate Sturgess.
Outside of work Kate spends her time renovating houses, taking advantage of Newcastle's pristine beaches, and showing her dog Winston the ropes around the vineyards.