2019 Graveyard Shiraz, Hunter Valley
New Release
Brokenwood Wines is pleased to announce the release of its highly anticipated 2019 Graveyard Vineyard Shiraz, Hunter Valley, NSW. Launched on the Sunday 29th May at the annual Graveyard Lunch the iconic shiraz has been dubbed
"An impressive wine and a great follow on from the 2018 Graveyard Vintage - James Halliday Wine Companion Wine of the Year" Stuart Hordern.

Tasting Notes - Stuart Hordern
"Bright mid density colour with purple hues just adding to the appeal. The use of large format French oak allows the red spice and bramble fruit of Hunter Shiraz to shine. Initial palate is very supple and complete, giving a lovely flow from start to finish. The importance of acidity can never be underestimated as this underpins the structure and carry. Subtle but powerful."
This wine will pairs well with slow roasted lamb shoulder. A superb wine to drink now or to add to your wine collection as it improve with age over the next 5-10 years.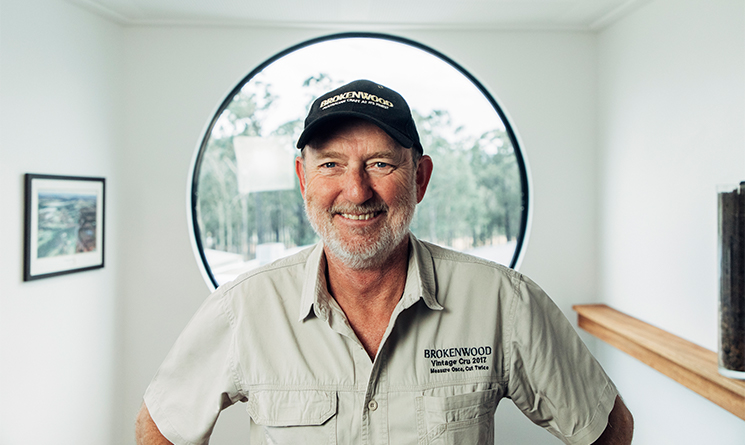 Iain Riggs - Hunter Valley Legend
The legendary Iain Riggs AM, the Hunter Valley Wine Industry 2021 Living Legend Iain's inspiring contribution to the Australian wine industry spans 40+ years of innovative winemaking. Iain has been promoting the Hunter Valley region, growing Brokenwood Wines from a small operation to an iconic and globally recognised brand. An unparalleled dedication to helping the next generation of winemakers develop. Iain has been instrumental to building the Hunter Valley Graveyard Shiraz to exceptional standards.

The 2019 Graveyard Vintage
Hunter Valley winemakers had the rare joy of 3 consecutive dry vintages when the grapes of 2019 started coming off the vines. The hot vintage of 2018 ended with 100mm of rain in February and then 120mm in March. Our usual dry winter prevailed and then a small amount of Spring/early Summer rain. The temperatures started to rise in late December hitting 39C on 29th signalling a very hot New Year.
For January 2019, Brokenwood saw only 3 days under 30C and 19 days over 35C. In a flash back to early February 2017, there was a run of days, 15th to 19th, of over 40C and the month closed out with 43.5C on the 26th. The old vines of Graveyard were harvested in the second week of February in pristine condition. An effortless high quality vintage.
The winemaking team behind the 2019 vintage includes recently retired Chief Winemaker Iain Riggs, long-standing Senior Winemaker Stuart Hordern, and Winemaker Kate Sturgess.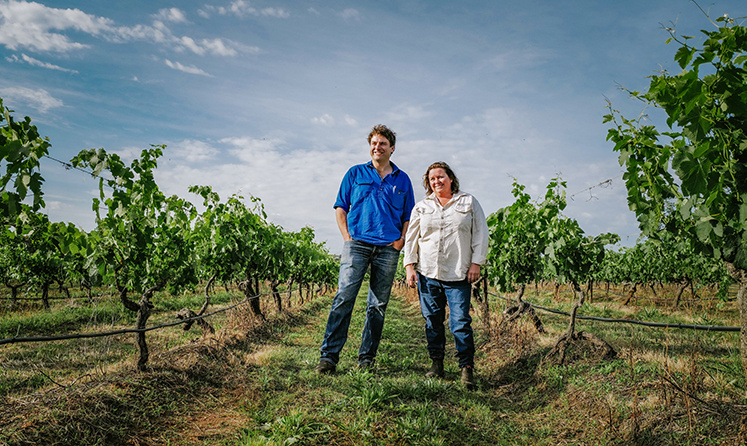 The History of the Graveyard Vineyard
The Graveyard Vineyard Shiraz has long been recognised for its quality and history; it was included in the first Langton's Classification of Australian Wine, and in 2010 elevated to the top Exceptional category, which it still holds today.
Viticulturist Keith Barry helped plant the site in 1968 and managed the vines for more than 30 years until his passing in 2016. Today, his daughter Katrina Barry manages the vineyard, having worked the land since age 12.
Brokenwood purchased the Graveyard Vineyard in 1978, originally destined to be the Pokolbin cemetery, although was never used as such.

About Brokenwood
Established in 1970, Brokenwood Wines has evolved from a weekend venture for self-professed hobby winemakers into one of Australia's most reputable wine labels.

Founded by a trio of Sydney-based solicitors, Tony Albert, John Beeston and James Halliday (no longer part of the company), who paid a then record price of $970 per acre for a 10-acre block in the foothills of the Brokenback Ranges. As the company expanded, Brokenwood acquired the neighbouring Graveyard Vineyard in 1978, so named as it was the site gazetted for Pokolbin's cemetery, although never used as such.
REVIEW
Ken Gargett
Brokenwood Graveyard 2019 (AUD$350) – "Few wines have had a harder act to follow than this one on the heels of the stupendous 2018, but has given it a red-hot go. Tight and youthful with firm tannins. Flavors of chocolate, plums, dry herbs, black fruits, fresh leather. It doesn't quite have the almost-unique combination of exuberance and finesse the 2018 exhibits, but it has other charms. It would be fair to suggest that this is more typically Graveyard in character than the '18. Complexity and length and a cracking future. Backed by juicy acidity. 98pts".