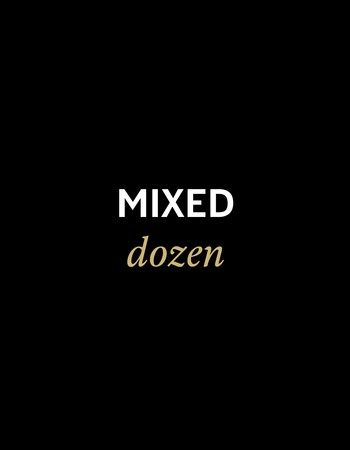 Mixed Red & White Dozen (12pk)
Sale Price $330
2 bottles each of:
Chardonnay, Beechworth, VIC
Perfect, pale green colour and lifted grapefruit aromas. The minimal oak sits nicely with the fine, juicy citrus flavours on the palate accompanied by subtle bran meal. The driving force of this wine is the acidity – long and pure.
Semillon, Hunter Valley, NSW
Vibrant in colour – a touch more than usual due to the sunshine. Lovely florals and lemon grass aromas. Mouth filling flavours of pear and lemon pith balancing the zesty acid backbone. The aromas and fruit weight belie the 10.8% alcohol and reconfirms that the Hunter Valley produces fruit at optimal ripeness and much lower sugar levels.
NV Sparkling 8 Rows Chardonnay, Pinot Noir
Pale straw with youthful hues, this sparkling wine is crystal clear with a fine persistent bead. The bouquet shows
lifted citrus and strawberry fruit characters. The palate exhibits fresh berry fruit flavours, soft and creamy light yeast characters with a fine structure. It finishes with a lively effervescence and a crisp natural tangy acid finish.
Pinot Noir, Beechworth, VIC
This wine is bright in colour with youthful tints and medium density. The Beechworth Pinot Noir is consistent with its lifted cherry fruit with oak very much in the background. The red fruit spectrum continues on the palate with Campari like savoury fruit. Soft tannins make for a very enjoyable young, vibrant Pinot Noir.
Cabernet Sauvignon Merlot, McLaren Vale SA & Margaret River WA
Quite a dense colour with deep red hues. Lifted Christmas cake aromas with red pastille jube notes. The sweet Cabernet Sauvignon fruit on the palate is balanced by the dry ripe tannins. Dark plum Merlot flavours and sweet background oak, making this wine immensely enjoyable.
Indigo Vineyard Shiraz, Beechworth, VIC
A youthful, medium to full density colour which is pleasing to the eye. Red fruit and ginger notes from the 30% whole bunch fermentation. Dark chocolate flavours on the initial palate over very fine tannins. The French oak compliments the sweet fruit and the long soft finish makes for a very enjoyable Shiraz in the short term but also long term.