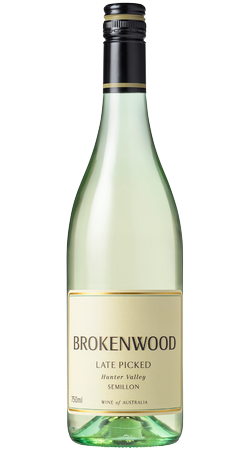 2022 Late Picked Semillon
Hunter Valley, NSW
Beautiful green/yellow colour with aromas of fresh apple and tropical fruits. These carry to the palate and are given a bit more prominence due to the slightly riper grapes. The sweetness is balanced by the fresh apple acidity that runs through to the finish. With just under 10.0% alcohol, this is a refreshing and easy drinking wine.
CRU $240.00 I SVC $240.00
Wine Profile
Vinification
Brokenwood has quite a history of Late Picked styles starting in 1983 and we have used Semillon, Gewürztraminer from the Hunter, and Riesling from McLaren Vale. The fruit is allowed to slightly over ripen and then the fermentation stopped when there's a perfect balance between acid, sugar and alcohol. Fermentation in stainless steel and using neutral yeast.
Winemaker Comments
A season with many similarities to 2021 but overall of higher quality. La Nina once again made for a cool, wet season albeit tempered by consistent breeze, which kept the canopy dry and disease at bay. Pokolbin had reached its annual rainfall by the end of November, with it being the wettest November on record. We ended up receiving 956mm for 2021. One of the latest harvests in the Hunter in many years, with the last Semillon not being picked until the 14th of February.
Food Pairing
Fresh fruit and sunshine or an apple flan.
Drink
A vibrant wine style best consumed over the short term.