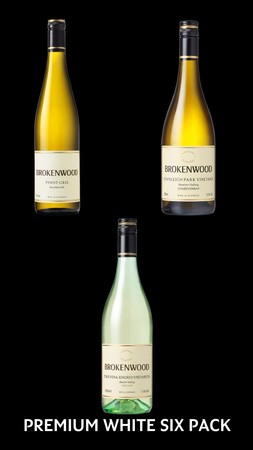 Premium White Six Pack (6 pack) - Winter Sale
2 x bottles of 2020 Pinot Gris, Currency Creek, SA
Pinot Gris grapes can be quite coloured, even pink in some years; this wine is a lovely yellow/green. The initial palate of nashi pear and beeswax is carried by a zesty acidic backbone. Being a slightly warmer vintage, the palate carries more weight and richness. A delightful Pinot Gris that just asks to be consumed.
2 x bottles of 2014 Trevena Kindred Semillon, Hunter Valley NSW
The wine has a very appealing green tint on release at four years bottle age. The citrus, lemon grass notes are starting to morph into cut grass and will ultimately end up as bees wax and toast after 7+ years bottle age. With lovely limejuice acidity, this Trevena, Kindred blend while very enjoyable now will reward cellaring.
2 x bottles of 2020 Stanleigh Park Chardonnay, Hunter Valley, NSW
Careful winemaking has resulted in a perfect green tinted yellow colour. Excellent complexity on the nose and palate after pressing whole bunches and a wild ferment in barrel. Cashew notes from the fine French oak compliment the white peach and grapefruit characters. A very fine and delicate Chardonnay that will evolve over the next few years.