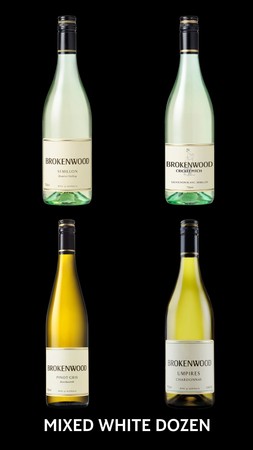 Brokenwood Mixed White (12 pack) - Winter Sale
Mixed White Dozen
3 x bottles of 2020 Semillon, Hunter Valley, NSW
Vibrant in colour – a touch more than usual due to the sunshine. Lovely florals and lemon grass aromas. Mouth filling flavours of pear and lemon pith balancing the zesty acid backbone. The aromas and fruit weight belie the 10.8% alcohol and reconfirms that the Hunter Valley produces fruit at optimal ripeness and much lower sugar levels.

3 x bottles of 2020 Cricket Pitch White, NSW
Lovely pale yellow colour with green tints. Citrus pith and florals on the nose rather than big tropical notes. Very appealing. Initial flavours of citrus and melon, light cool palate at 11.55% alcohol. Grapefruit, finger lime and a zesty acidity adds to the structure. A perfect wine paired with a wide range of food.
3 x bottles of 2020 Pinot Gris, Currency Creek, SA
Pinot Gris grapes can be quite coloured, even pink in some years; this wine is a lovely yellow/green. The initial palate of nashi pear and beeswax is carried by a zesty acidic backbone. Being a slightly warmer vintage, the palate carries more weight and richness. A delightful Pinot Gris that just asks to be consumed.
3 x bottles of 2019 Umpires Chardonnay, Central Ranges, NSW
A very appealing yellow/green tinted colour. Tropical aromas with plenty of primary fruit as a young wine. Minimal oak influence and adds a slight bran meal note. More tropical fruit on the palate balanced by bright zesty acidity. An excellent flavoursome Chardonnay.