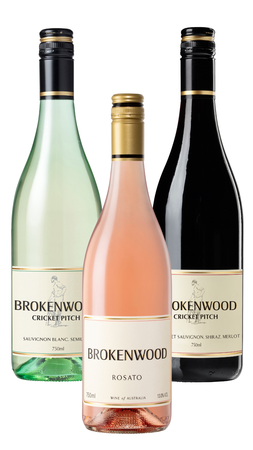 White, Red & Rosé | Trio Pack
Brokenwood classics & a new fave! Cricket Pitch White and Cricket Pitch Red, two long standing Brokenwood blends in their 31st and 30th years of vintage. Plus try our 2023 Rosato made from the Mediterranean grape varietals Sangiovese & Nebbiolo - home grown with a nod to the great Rosé styles of Europe.
Pack includes:
1x 2022 Cricket Pitch White, Sauvignon Blanc Semillon
Lovely pale yellow colour with green tints. Citrus pith and florals on the nose with a clear Sauvignon Blanc lift. Initial flavours of citrus and melon, light cool palate at 11.5% alcohol. Grapefruit, finger lime and a zesty acidity adds to the structure. A perfect summer drink paired with a wide range of food.
1 x 2021 Cricket Pitch Red, Cabernet Sauvignon Shiraz Merlot
Superb aromas with lifted Cabernet fruit and background vanillin oak. The Shiraz component adds dark fruit, mid-palate weight and sweetness along with the ripe tannins, which give great length and persistence to the finish. Cabernet is not 'dense' in terms of colour but this wine has a lovely purple hue, simply one of the best Cricket Pitch reds and a lovely drinking wine as always.
1 x 2023 Rosato, NSW & VIC
The colour has a very appealing coral hue. Sangiovese has a floral element to its aroma and this dominates with Turkish delight and almost rose water in the background. The palate has vibrant spice/ginger notes and a dry finish, and while technically a red wine, has plenty of zesty acid.