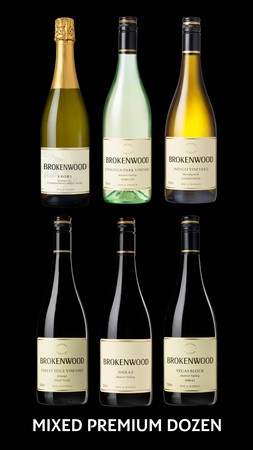 SIXERS MIXED PREMIUM DOZEN
2 x bottles Stanleigh Park Vineyard Semillon, Hunter Valley NSW
At 6 years of age on release, the colour is starting to deepen to a light gold. Evolving aromas of bees wax and vanillin. A softening palate of Bickford lime cordial characters with fresh citrus zest on the finish. This wine is beautiful now and will continue to develop for many years.
2 x bottles 8 Rows Sparkling Chardonnay Pinot Noir, South Eastern Australia
Pale straw with youthful hues, this sparkling wine is crystal clear with a fine persistent bead. The bouquet shows lifted citrus and strawberry fruit characters. The palate exhibits fresh berry fruit flavours, soft and creamy light yeast characters with a fine structure. It finishes with a lively effervescence and a crisp natural tangy acid finish.
2 x bottles Indigo Vineyard Chardonnay, Beechworth VIC
The 2019 is a little fuller in weight than previous vintages showing the warmer summer, but still has a lovely pale yellow/ green colour. Fermented in 100% French oak, mostly 500L puncheons, the warm year has meant less citrus lift but has bran meal and toast notes from the wild ferment and extended lees contact. The crisp acidity and low alcohol makes for quite a zesty mouth feel. Grapefruit pith and rock melon carry through for a long finish.
2 x bottles Forest Edge Vineyard Pinot Noir, Orange NSW
Quite pale in colour with a young red tint. Lifted red cherry and pastille sweet aroma. Minimal oak noticeable as maturation was in 2nd and 3rd use French puncheons. A slight char note along with bramble complexity. A very enjoyable wine over the medium term.
2 x bottles Hunter Valley Shiraz, Hunter Valley NSW
Superb colour with dark red and purple hues. Lifted aromas of red fruit and ginger spice. While there is some oak, it is very much in the background. Soft entry on the palate, fine tannins and perfect acid carry through to the finish. A typical medium bodied Hunter Valley Shiraz that will give drinking pleasure now and over the long term.
2 x bottles Vegas Block Shiraz, Hunter Valley, NSW
A mid density wine with purple tints from the whole bunch/stalk technique used, which presents lifted, red cherry aromas and bramble notes. A very fragrant, pretty nose. 30% whole bunch was incorporated into the ferment. Some oak is evident but in the background which adds another subtle layer. Silky tannins and the savoury fruit make for a very enjoyable Hunter Valley light dry red.