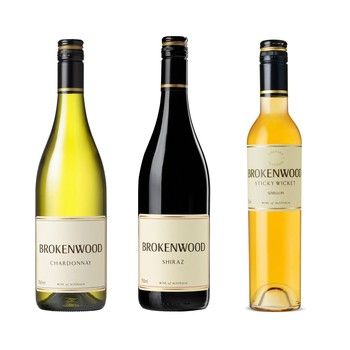 Dinner Party | Trio Pack
The wine line up you need to throw a great dinner party at home! Chardonnay, Shiraz and our Sticky Wicket Semillon Sauvignon Blanc dessert wine. We've even listed some delicious food pairings.
Pack includes:
1 x 2020 Chardonnay, Margaret River WA
A perfect pale yellow colour, tinged with green. The fruit was picked at optimum ripeness to capture the grapefruit and stonefruit aromas. Balanced French oak on the nose and palate but the hint of vanillin sweetness compliments the Chardonnay fruit. Tropical flavours that will build with bottle age. Great acid line and all up a very enjoyable Chardonnay.
Food Pairing: Rich seafood, pasta and light meat dishes.
1 x 2017 Shiraz, Area Blend
With 53% McLaren Vale fruit, the initial highlight is the colour, deep red with purple tints. Lifted dark cherry and plum characters on the aromas and the oak hardly noticeable. Ripe, blackberry pastille flavours dominate the flavour profile. Fine tannins from the fruit and oak balances the sweet fruit.
Food Pairing: Pairs well with lamb, veal and pasta dishes.
1 x 2013 Sticky Wicket Semillon Sauvignon Blanc
Burnished gold colour with lifted glace fruit/peel aromas. Although low in alcohol, it has a luscious mouth feel from the retained sugar. Crème Brûlée and peel flavours continue on the palate supported by a zesty citrus acid. A superb dessert rich style without any cloying characters.
Food Pairing: Fresh fruit, especially peaches, light dessert or over ice-cream.