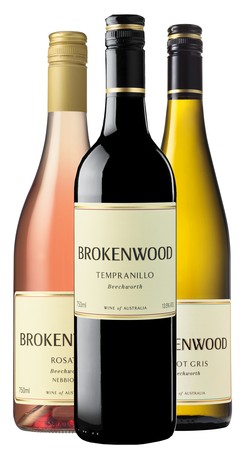 Beechworth Favourites Pack
2 bottles each of:
Pinot Gris, Beechworth, VIC
Pinot Gris grapes can be quite coloured, even pink in some years; this wine is a lovely yellow/green. Aromas of honeysuckle and pear. Richness from the 13.5% alcohol and some phenolic 'grip,' but not oily in any sense. The tropical fruit flavours are nicely balanced by a zesty acid.
Rosato Nebbiolo, Beechworth, VIC
The colour is a very appealing pale salmon. Nebbiolo has a floral element to its aroma and this dominates with
almost but not quite, rose water background. The palate has vibrant spice/ginger notes and while technically a red wine, has plenty of zesty acid. A wine to be enjoyed over the next year or so.
Tempranillo, Beechworth, VIC
As expected of a red wine bottled after 6 months, the colour is deep red with purple hues. Aromas of pastille blue fruits and some spice. A generous palate with cherry ripe flavours from the start to finish. Definitely low astringency, but the tannins are ripe giving great 'carry' and finish. An easy drinking wine to enjoy with friends or at a Sunday BBQ.
RRP $192.00 NOW $163.00 & FREE SHIPPING