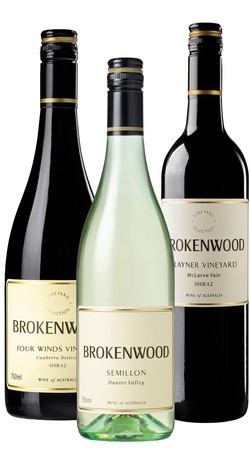 All The Right Regions | Red & White Trio Pack
The Brokenwood motto is "All the right regions for all the right reasons", and that's exactly what you get in this pack.
Semillon from the Hunter Valley, home to the best Semillon in the world. Cool climate Shiraz from the famed Four Winds Vineyard in Canberra which is delicate and pretty in the glass. Then as a contrast, a rich, dark chocolate, medium to full bodied Shiraz from one of our best vineyards in the country; the Rayner Vineyard in McLaren Vale.
This is the perfect pack to try superb wines from 3 different corners of Australia.
Pack includes:
1 x 2022 Semillon, Hunter Valley NSW
Vibrant in colour, with lots of luminous green tints. Lovely florals and lemongrass aromas. Mouth filling flavours of green apple and lemon pith balancing the zesty acid backbone. The flavours linger on for quite some time, similar to the 2021, a classic Hunter Valley Semillon to enjoy now or age gracefully.
1 x 2019 Four Winds Vineyard Shiraz,
Canberra District
ACT
Bright youthful colour and medium density, not unlike a Hunter Shiraz. Pepper and red spice notes reflect the Canberra region, accompanied by Bramble and berry fruit characters and briar wood. Lovely even flow to the palate, medium weight with dark fruit and fine grained tannins from the perfectly ripe grapes and quality French oak. This is the 7th release of this single block Shiraz and it is a standout.
1 x 2018 Rayner Vineyard Shiraz,
McLaren Vale
SA
Another great release for this iconic Single Vineyard wine. A lovely colour which is not quite as dense as some previous McLaren Vale wines. Dark fruit pastille aromas, plum and vanillin oak in the background. Sweet fruit entry on the palate, dark chocolate and a medium to full-bodied mouth feel. A stylish Shiraz and one to age over the long term.