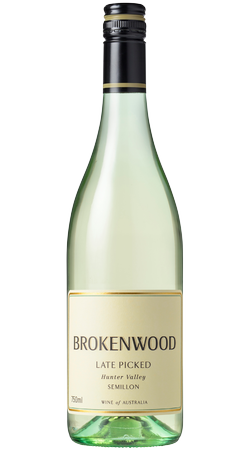 2021 Late Picked Semillon
Hunter Valley, NSW
Brokenwood has made a range of sweet styles over the years using Semillon, Riesling and Gewürtztraminer. This wine is a 'blast from the past' following the first Late Picked Semillon made in 1983. This wine has lifted citrus and tropical fruit aromas. The palate is rich but has great zesty acidity to balance the sweetness. Perfect to accompany a fruit platter or served chilled from the fridge on a sunny afternoon.
CRU $262.50 I SVC $247.50
Wine Profile
Tasting Notes
Beautiful green/yellow colour with aromas of fresh apple and tropical fruits. These carry to the palate and are given a bit more prominence due to the slightly riper grapes. The sweetness is balanced by the fresh apple acidity that runs through to the finish. With 10.0% alcohol, this is a refreshing and easy drinking wine.
Vinification
Brokenwood has quite a history of Late Picked styles starting in 1983 and we have used Semillon, Gewurztraminer from the Hunter and Riesling from McLaren Vale. The fruit is allowed to get a bit riper and then the fermentation stopped when there was a perfect balance between acid, sugar and alcohol. Fermentation in stainless steel and using cultured yeast.
Food Pairing
Fresh fruit and sunshine or an apple flan.
Drink
A vibrant wine style best consumed over the short term.