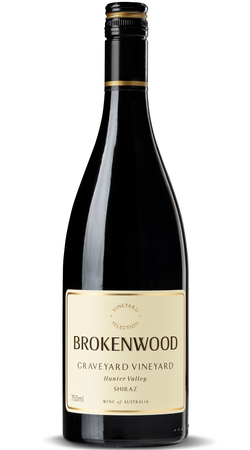 2019 Graveyard Vineyard Shiraz
Hunter Valley, NSW
Bright mid density colour with purple hues just adding to the appeal. The use of large format French oak allows the red spice and bramble fruit of Hunter Shiraz to shine. Initial palate is very supple and complete, giving a lovely flow from start to finish. The importance of acidity can never be underestimated as this underpins the structure and carry. An impressive wine, which is a great follow on from the 2018 vintage. Subtle but powerful.
The Langton's Classification of Australian Wine was first released in 1991 and honoured the Graveyard Vineyard Shiraz with 'Outstanding'. The Graveyard Vineyard Shiraz remains the only Hunter Valley Shiraz in the Classification and was elevated to the highest category of 'Exceptional' and has remained for each release since.
CRU $1837.50 I SVC $1732.50
Wine Profile
Awards
Gold Medal - Hunter Valley Wine Show
Vineyard Notes
Processing started with a 3 day cold soak, then a 5-6 day ferment at 24-26C. The vineyard is on heavy clay soil which gives great fruit concentration with tannin structure and direction. The oak regime for this wine is 100% French, no new oak.
Winemaker Comments
Hunter Valley winemakers had the rare joy of 3 consecutive dry vintages when the grapes of 2019 started coming off the vines. The hot vintage of 2018 ended with 100mm of rain in February and then 120mm in March. Our usual dry winter prevailed and then a small amount of Spring/early Summer rain. The temperatures started to rise in late December hitting 39C on 29th signalling a very hot New Year. For January 2019, Brokenwood saw only 3 days under 30C and 19 days over 35C. In a flash back to early February 2017, there was a run of days, 15th to 19th, of over 40C and the month closed out with 43.5C on the 26th. The old vines of Graveyard were harvested in the second week of February in pristine condition. An effortless high quality vintage.
Food Pairing
Pairs well with Osso bucco or slow roasted lamb shoulder.