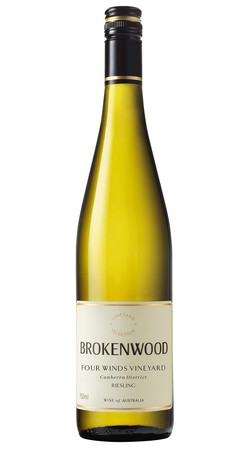 2019 Four Winds Vineyard Riesling
Canberra District, NSW
Lovely green tints. A bit more colour than previous releases due to low foliage and heat. Lifted aromas of florals, blossom and white peach. Excellent crunchy apple flavours and almost red spice. Palate is a touch fuller, even with
a lower acidity than normal. The perfect drop to enjoy as the weather warms up.
Wine Profile
Vinification
The fruit was transported to the Hunter Valley and whole bunch pressed. The free run was then fermented cold in stainless steel while the pressings went to older barrels. These then had a wild fermentation. The final step was to make sure the two parcels worked together as a blend. They did!
Winemaker Comments
The sixth release of our Riesling from the Canberra district. This small grape growing area is half way between Canberra and Yass and the home to some very fine wineries such as Clonakilla and Helm. As well as spicy Shiraz, the area has been making a name for itself with racy, slatey Riesling. A dry, cold winter had growers a bit concerned, especially when Spring temperatures started to rise without any significant rain. Help cam in the form of 80+ and 100+mm of rain in November and December. The end of 2018 was hot and then January 2019 was even hotter. A bit more rain in February and then cooler weather helped and the grapes for this wine were picked on 6th March.
Food Pairing
A perfect match with Asian or any seafood.
Drink
Best consumed over the medium term.