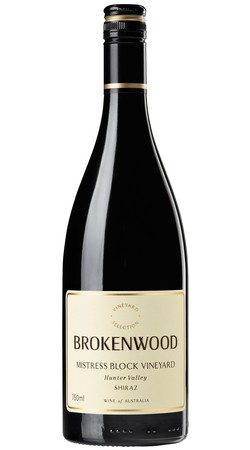 2017 Mistress Block Vineyard Shiraz
Hunter Valley, NSW
A deep coloured Shiraz with distinct purple tints due to low crops and a high skin-to-juice ratio. Lifted aromas of blackberry and red cherry pastille jubes. Dark fruit flavours and fine ripe tannins abound. Matured in 100% French oak but only 35% new, this is a perfect Hunter Valley Shiraz for the long term.
SVC $544.50
Wine Profile
Vinification
Processing started with 3-4 day cold soaking and then a 4-5 day ferment at 26-28C. The vineyard is on dark loam soil and gives a more chocolate character to those in red soil. The oak regime for this wine is 100% French oak, with 20% new.
Winemaker Comments
Brokenwood has managed the Mistress Block Vineyard and made wine from it since the late 1980s. The vineyard is now 50 years old and is planted on a steep, east facing slope. Perfect to avoid the summer heat. The dark loam soil absorbs the heat and then the grapes are in shade for the latter part of the afternoon. The Hunter Valley has a long history of wet years being followed immediately by scorchers, 1997 – 1998, 2002 – 2003, and 2004 – 2005. The feature of these years is the previous year has a wet autumn, dry winter followed by a very hot summer. Another feature is the very high quality of Shiraz. We had 95% of our Shiraz picked before the extreme heat of the weekend 10th to 12th February 2017 that saw the temperature hit 44, 47 and 45C over the three-day period – staff and vines survived. This is a special release from a wonderful collection of 2017 Hunter Valley Shiraz wines from Brokenwood. All are characterised by deep colour and lifted ripe fruit.
Food Pairing
Osso bucco, steak, lamb and cheese.
Drink
Drinking well now but will reward medium to long term cellaring.