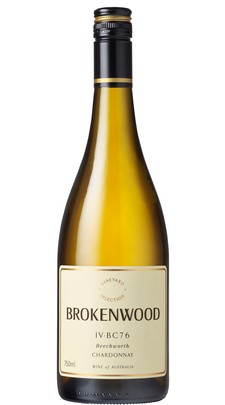 2015 IV-BC76 Chardonnay
Beechworth, VIC
*Limited Release*

Beautiful bright green tinted colour. Being a 'winemakers' wine, that is what they envisage as a perfect Chardonnay style, the aromas show very little oak but some bran meal, vanillin notes. Fruit spectrum is tropical/citrus. Lovely flow to the palate with rich mouth feel from the lees contact. Fermented with wild or indigenous yeast, this gives a slight struck flint edge, adding to the flavour layers.
CRU $393.75 SVC $371.25
Wine Profile
Tasting Notes
At 3 years of age on release, a small amount of pale yellow colour along with lots of green tints. The citrus fruit slowly becoming more tropical with pith and rind notes. Bran meal oak is evident along with our characteristic 'struck match' from the wild yeast ferment. Bright, zesty acidity on the finish. Perfect to drink now and over the medium term.
Vinification
Whole bunch pressing, wild ferment in new French oak have come together in spectacular fashion. The wine was fermented in 30% new French oak and the balance older, from a variety of cooperages.
Winemaker Comments
Our Beechworth neighbour Rick Kinzbrunner from Giaconda has had immense success with his Beechworth Chardonnay, highlighting the great quality of this region. Different soils, aspect, clones and age of vines on the Indigo property will lead our Chardonnay in a different direction but with minimum winemaker input, the region still expresses itself. Beechworth is a very important region for us and the vineyard is back in prime condition following the frost event of October 2013. An excellent winter and spring of 2014 leading up to a fine summer with some rain in mid-January but not enough to cause any concern.
Food Pairing
Rich seafood, pasta and light meat dishes.
Drink
Drinking well now but will improve with further bottle age.