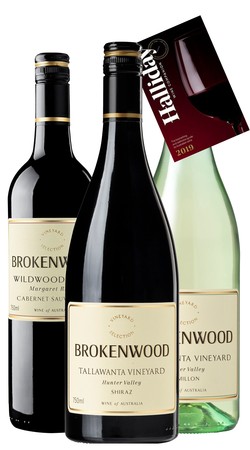 Halliday's Pick Dozen
2 bottles each of:
2017 Four Winds Vineyard Riesling, Canberra District, ACT 96 Pts
Excellent colour with plenty of green tints. Lifted Riesling aromas of lime juice, apple and stone fruit. Some background floral notes. These follow to the palate with crunchy apple and pear flavours supported by lovely acidity. The slight residual sugar is perfectly balanced with acid, hence being classed as 'dry' on the International Riesling scale. A wine of great finesse and flavour.
2015 Tallawanta Vineyard Semillon, Hunter Valley, NSW 95 Pts
At 3 years bottle age on release in 2018, this wine has the perfect Hunter Valley Semillon colour, pale yellow and luminous green tints. There is a hint of toast, honey nougat flavour and texture with citrus rind aromas and some cut
grass in the background. Lovely weight and depth of fruit with lime flavours and soft acid. A great addition to our Single Vineyard Semillon range.

2017 Rosato Nebbiolo , Beechworth, VIC 95 Pts
The colour is a very appealing pale salmon. Nebbiolo has a floral element to its aroma and this dominates with almost but not quite, rose water background. The palate has vibrant spice/ginger notes and while technically a red wine, has plenty of zesty acid. A wine to be enjoyed over the next year or so.

2015 Wade Block 2 Vineyard Shiraz, McLaren Vale, SA 95 Pts
Vibrant youthful colour on release as a two year old wine. The aromas represent everything to love about McLaren Vale Shiraz, black fruit and Christmas Cake. Perhaps with a thimble of Nan's brandy over the top. The oak is 100% French and does add some vanillin spice to the mix. Dark chocolate fruit on the palate with dusty ripe tannins adds to the complexity and balances the ripe fruit nicely. Lovely black pastille jube notes on the lingering finish.

2016 Tallawanta Vineyard Shiraz, Hunter Valley, NSW 96 Pts
Mid-density colour, lifted cool year spice and red fruits. Some char/sweet-oak aromas are noticeable on the palate. At 13% alcohol, the wine has a medium-bodied palate, red cherry fruit and soft tannins carry through to the finish. A lovely drink as a young wine, and like all our Hunter Valley Shiraz, will age beautifully.

2015 Wildwood Road Cabernet Sauvignon, Margaret River, WA 97 Pts
The colour is medium to deep density and quite purple on the rim. Lovely, sweet cedar, red fruit aromas and distinct vanillin from 100% French oak. Sage/herb garden flavours with plenty of sweet Cabernet fruit. The finish is long with a juicy acidity and ripe tannins. Built for the long haul, however it can be enjoyed over the medium term.
Plus a complimentary copy of Halliday's Wine Companion 2019 (RRP $29.99)
RRP $836.00 NOW $650.00 AND FREE SHIPPING