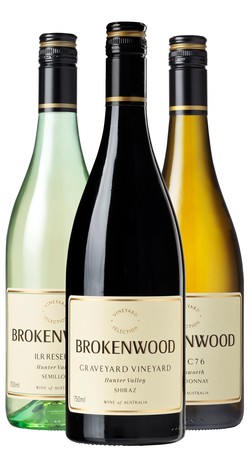 Wine Enthusiast Pack
1 bottle each of:
ILR Reserve Semillon, Hunter Valley, NSW
Semillon of the Year, James Halliday Wine Companion 2016.
This wine has a beautiful colour, and perfect grapes/ripening means nothing interferes with the gentle aging. As the wine warms up, the citrus and some florals come in. Bees wax and then 'toast' will come in a few years. Lively palate, plenty of citrus pith and seamless acidity. A wine that has a long future in front of it. Enjoy.
Oakey Creek Vineyard Semillon, Hunter Valley, NSW
The warmer weather has resulted in great fruit intensity. The colours in 2013 are outstanding, lots of luminous green tints. Lifted aromas of citrus/lemongrass notes. Sweet fruit flavours with great lime juice acidity. This is an outstanding young Hunter Valley Semillon and great drinking now or this will age gracefully if a more mature style is desired.
Indigo Vineyard Chardonnay, Beechworth, VIC
Excellent colour, vibrant yellow/green. Minimal oak maturation. Pear and citrus aromas plus background 'mealy' oak. Some wild ferment edges of struck flint. The palate carries these as well as some tannin and sweetness from the oak maturation. A little bit fuller than the 2012 but only half a percent higher in alcohol. Fine textured palate with bright citrus/tropical acidity. Modern Australian Chardonnay at its best.
Graveyard Vineyard Shiraz, Hunter Valley, NSW
Sound fruit and excellent ripeness. Typical mid density colour meaning this is an elegant supple Graveyard Shiraz. The older, large format French oak integrates perfectly with sweetness and fine tannins. The fruit spectrum for Graveyard Shiraz is about red cherries and almost Pinot-like Campari notes. Medium bodied palate but with ripe tannins and a juicy acidity that will keep the wine in good stead for many years.
Indigo Vineyard Pinot Noir, Beechworth, VIC
The colour is medium density with lovely purple hues evident. Fragrant Pinot Noir aromas of red cherry and background sweet oak. Soft entry on the palate with forest/dried fruit richness and excellent fruit tannins. Will increase in complexity with bottle age or enjoyed in its youth as a vibrant Pinot Noir.
Wade Block 2 Vineyard Shiraz, McLaren Vale, SA
Vibrant, youthful colour; medium density and lovely purple tints. Being a cooler year the aromas are more on the spice cherry side than ripe and opulent. The alcohol is still 14%. Medium weight palate and again spice and savoury edges. The tell-tale McLaren Vale jube fruit is there along with background oak.
RRP $540.00 NOW $449.00