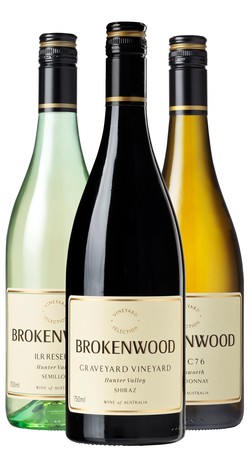 Wine Enthusiast Pack
1 bottle each of:
ILR Reserve Semillon, Hunter Valley, NSW
Semillon of the Year, James Halliday Wine Companion 2016.
This wine has a beautiful colour, and perfect grapes/ripening means nothing interferes with the gentle aging. As the wine warms up, the citrus and some florals come in. Bees wax and then 'toast' will come in a few years. Lively palate, plenty of citrus pith and seamless acidity. A wine that has a long future in front of it. Enjoy.
Poppy's Block Semillon, Hunter Valley, NSW
The first Single Vineyard Semillon from 2015 and the cool year has given a bright citrus character. Perfect green colour and lifted lemon zest aromas. The Marsh Estate Vineyard on Deasey's Road has similar desiccated calcareous soil to the Trevena Vineyard and palate flavours have a talc, wet stone profile. Fruit flavours of fresh cut lime and lemongrass with perfect juicy acidity.
Indigo Vineyard Chardonnay, Beechworth, VIC
Perfect green tinted colour and a sure sign of careful fruit and then oak management. Lifted citrus spectrum aromas with lime zest and background 'meal' notes from the oak. More fruit and less 'struck match' on both aroma and palate compared to previous year. Alcohol is low at 12.5% but there's plenty of fruit weight and tropical acidity. A classy and modern Aussie Chardonnay.
Graveyard Vineyard Shiraz, Hunter Valley, NSW
Sound fruit and excellent ripeness. Typical mid density colour meaning this is an elegant supple Graveyard Shiraz. The older, large format French oak integrates perfectly with sweetness and fine tannins. The fruit spectrum for Graveyard Shiraz is about red cherries and almost Pinot-like Campari notes. Medium bodied palate but with ripe tannins and a juicy acidity that will keep the wine in good stead for many years.
Indigo Vineyard Pinot Noir, Beechworth, VIC
The 2014 Beechworth Pinot Noir's have a terrific, vibrant colour. The richer fruit spectrum means a bit more new oak for this wine. Quite fragrant with more dark cherry and undergrowth notes that make Pinot so interesting. Smokey char characters from the oak but this will integrate with further bottle age. A serious young Pinot Noir.
Wade Block 2 Vineyard Shiraz, McLaren Vale, SA
Vibrant, youthful colour; medium density and lovely purple tints. Being a cooler year the aromas are more on the spice cherry side than ripe and opulent. The alcohol is still 14%. Medium weight palate and again spice and savoury edges. The tell-tale McLaren Vale jube fruit is there along with background oak.
RRP $547.00 NOW $449.00