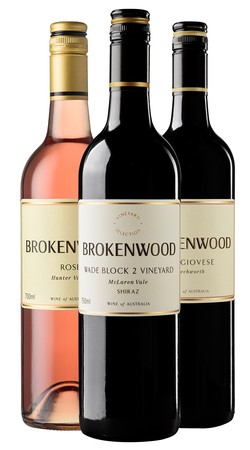 Deluxe Red Dozen
Save $98.00
3 bottles each of:
2017 Sangiovese, Beechworth, VIC
Vibrant young colours and medium density. Very fragrant and appealing nose of red/maraschino cherry aromas. The background shows sweet oak, although the wine was not in any new barrels. Bright, savoury Sangiovese fruit on the palate with juicy acidity. Typical drying tannins and red spice/ginger notes with a great finish. Immensely enjoyable.
2015 Cricket Pitch Red, South Eastern Australia
Excellent colour and mid-density. Being 60% Cabernet Sauvignon and 29% Shiraz it is more of the classic Aussie blend Cabernet/Shiraz. Lifted dark fruit and cedar notes on the nose. A rich mouth feel from the McLaren Vale Cabernet Sauvignon and Shiraz. Fine tannins with the oak very much in the background ensuring great drinkability.
2 bottles each of:
2014 Wade Block 2 Vineyard Shiraz, McLaren Vale, SA
Vibrant youthful colour on release as a two year old wine. Medium density and lovely purple tints. Aromas of dark cherry through to dark chocolate with a slight mint background. The oak, all French, is there as a vanillin note. These follow through to the mid weight palate. Flavours of red spice, ginger and five spice, typical of Christmas cake are also on the palate. Dusty ripe tannins add to the complexity and balance the ripe fruit nicely. Beautiful drink as a youngster but will also age for a long time.
2016 Rosé, Hunter Valley, NSW
A bright salmon pink colour. Lifted floral red fruit aromas of cherry and strawberry. These characters also appear on the soft medium bodied palate as well as some glace fruit. The finish is dry, no residual sugar and we have maintained a crisp acidity so the wine finishes fresh and zesty. Best enjoyed with sunshine and good company.
2014 Area Blend Shiraz, McLaren Vale SA, Hunter Valley NSW, Beechworth VIC & Canberra District NSW
An excellent McLaren Vale vintage and the Hunter Shiraz shines at 25%. Everything about this wine is medium bodied. Some purple edges evident and quite floral/rose petal aromas. The palate has lovely weight and fruit spice flavours. The blend works perfectly. Low oak impact and ripe tannins for a great finish.
RRP $428.00 NOW $330.00 SAVE $98.00