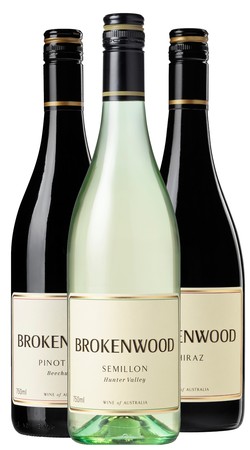 Mixed Dozen
Save $109.00
2 bottles each of:
2016 Semillon, Hunter Valley, NSW
Early rains and a later ripening harvest than 2015 has produced a typical lime pith/juice flavours making a fragrant Semillon. The colour is perfect with lots of luminous green tints. Only 10.5% alcohol, the palate shows great fruit intensity, some hay-like notes and a zesty citrus acidity on the finish. The flavours linger on for quite some time, a classic Hunter Valley wine.
2016 Cricket Pitch White, New South Wales
Great colour on release, lots of green tints in this young and easy drinking wine. With the cool, damp start to vintage 2016 the alcohol is more like that of a Hunter Valley Semillon at 11.5%, but with plenty of lifted tropical fruit aromas. Some melon and bees wax notes from the Semillon to go with the herbal/tropical Sauvignon Blanc. Citrus flavours on the palate and a zesty finish.
2015 Umpires Chardonnay, Cowra, NSW
A superb bright yellow/green colour, even after oak aging. Citrus and tropical aromas, with plenty of primary fruit as a young wine. The oak sits in the background and adds a char/smoky element. Good weight on the palate and a long finish. Although subtle oak, it's there and will integrate with the pineapple/mango fruit with further age.
2012 Cabernet Sauvignon Shiraz, Central Ranges, NSW & Beechworth, VIC
Mid to deep colour and density with youthful purple tints. Lifted cassis and leafy fruit with cedar/vanillin oak background. Very sweet entry to the palate and quite firm (but not aggressive) ripe tannins. Good alcohol weight. Dusty tobacco Cabernet Sauvignon flavours on the finish. A classic red that will reward with short term cellaring.
2015 Pinot Noir, Beechworth, VIC
This Pinot Noir is full of red cherry and ripe fruit tannins. Limpid light density Pinot colour with distinct maraschino cherry, almost Campari like aromas which follow to the palate. This wine will continue to mature, but on release at 2 years old it is a very enjoyable and vibrant Pinot Noir.
2013 Area Blend Shiraz, McLaren Vale, SA, Hunter Valley, NSW & Beechworth, VIC
Dense colour with deep purple hues. Complex aromas of dark chocolate and vanillin oak lift. The Hunter Valley component adds a savoury spice element but the dominant feature is the black fruit pastille of McLaren Vale. Ripe dusty tannins that will benefit the wine over the next 10 years or so.
RRP $348.00 NOW $239.00 SAVE $109.00