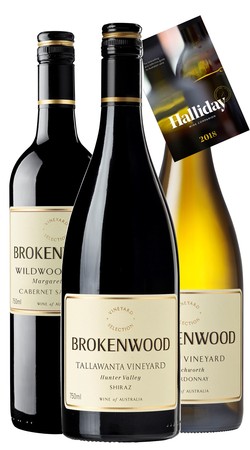 Halliday's Pick Dozen
2 bottles each of:
2015 Tallawanta Vineyard Shiraz, Hunter Valley, NSW 97 Pts
A true Hunter Valley Shiraz on all accounts, lifted cool year aromas of red ginger and spice with noticeable char oak and medium density colour. At 13% alcohol, the wine has a medium-bodied palate with plenty of earthy, bramble notes. Red cherry fruit characters, fruit tannin and the oak at this early stage is noticeable but not obtrusive. A wine that is drinking well now but will age gracefully.
2014 Wildwood Road Cabernet Sauvignon, Margaret River, WA 97 Pts
The colour is medium to deep density and quite purple on the rim. Lovely, sweet cedar, red fruit aromas and distinct vanillin from 100% French oak. Sage/herb garden flavours with plenty of sweet Cabernet fruit. The finish is long with a juicy acidity and ripe tannins. Built for the long haul, however it can be enjoyed over the medium term.
2015 Indigo Vineyard Chardonnay, Beechworth, VIC 96 Pts
Perfect green tinted colour and a sure sign of careful fruit and then oak management. Lifted citrus spectrum aromas with lime zest and background 'meal' notes form the oak. More fruit and less 'struck match' on both aroma and palate compared to previous year. Alcohol is low at 12.5% but there's plenty of fruit weight and tropical acidity. A classy and modern Aussie Chardonnay.
2015 Forest Edge Vineyard Pinot Noir, Orange, NSW 95 Pts
A pale but red hued Pinot Noir. Aromas show bright red cherry and Campari characters. The new oak was kept to a minimum but there is a sweet vanillin background. The palate is also in the red fruit spectrum and a perfect medium-bodied density. Ripe tannins and perfect fruit/oak balance gives a long finish to the wine. Best enjoyed over the medium term.
2016 Four Winds Vineyard Riesling, Canberra District, ACT 95 Pts
Excellent colour with plenty of green tints. Lifted Riesling aromas of lime juice, apple and stone fruit. Some background floral notes. These follow to the palate with crunchy apple and pear flavours supported by lovely acidity. The slight residual sugar is perfectly balanced with acid, hence being classed as 'dry' on the International Riesling scale. A wine of great finesse and flavour.
2016 Semillon, Hunter Valley, NSW 95 Pts
Early rains and a later ripening harvest than 2015 has produced a typical lime pith/juice flavours making a fragrant Semillon. The colour is perfect with lots of luminous green tints. Only 10.5% alcohol, the palate shows great fruit intensity, some hay-like notes and a zesty citrus acidity on the finish. The flavours linger on for quite some time, a classic Hunter Valley wine.
Plus a complimentary copy of Halliday's Wine Companion 2018 (RRP $29.99)
RRP $788.00 NOW $649.00