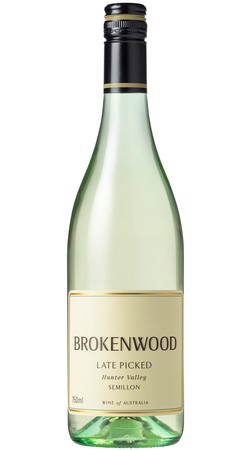 2016 Late Picked Semillon
Hunter Valley, NSW
Beautiful green/yellow colour with great aromas of fresh apple and tropical fruits. These carry to the palate and are given a bit more prominence due to the slightly riper grapes. The sweetness is balanced by the fresh apple acidity that
runs through to the finish. With 10.5% alcohol, this is a refreshing and easy drinking wine.
CRU $262.50 SVC $247.50
Wine Profile
Vinification
Brokenwood has quite a history of Late Picked styles starting in 1983 and we have used Semillon, Gewurztraminer from the Hunter and Riesling from McLaren Vale. The fruit is allowed to get a bit riper and then the fermentation stopped when there was a perfect balance between acid, sugar and alcohol. Fermentation in stainless steel and using cultured yeast.
Winemaker Comments
For Hunter Valley grape growers, pre-vintage discussion is all about the weather. In recent years harvest has been in full swing by the second week of January, however not so for 2016. Wet and cloudy conditions meant later ripening on most varieties. The Hunter Valley went back to its typical dry winter with no significant rain recorded between 23rd May and 24th August 2015. Major rainfall wasn't received until the first 2 weeks of December (121mm) but accompanied a hailstorm on the 10th. This basically cut a swath right through the middle of Pokolbin with the south of Mount View and north of Deasys Rd escaping. Another storm went through a week later bringing the months total up to 181mm and the yearly rainfall to 1051mm, well above the average of 720mm. January saw records set for rainfall with Brokenwood recording 338mm and then the tap was turned off with fine weather prevailing through February. Handpicking this fruit has resulted in fine, fragrant Semillons.
Food Pairing
Fresh fruit and sunshine or an apple flan.
Drink
A vibrant wine style best consumed over the short term.