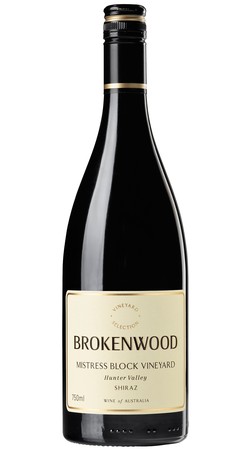 2015 Mistress Block Vineyard Shiraz
Hunter Valley, NSW
Mid to dark density colour with lots of purple tints. The Mistress Block, located on dark loams, always produces 'denser' wine than the clay soils of the Graveyard Vineyard, with this wine being no exception. Even though we class 2015 as a lighter year, the aromas show liquorice and dark cherry notes. The palate has plenty of weight at 13.5% alcohol with earthy plum flavours, along with a charry oak background. A classic medium bodied Hunter Valley Shiraz.
CRU $577.50 SVC $544.50
Wine Profile
Vinification
Processing started with 3-4 day cold soaking and then a 4-5 day ferment at 26-28C. The vineyard is on dark loam soil and gives a more chocolate character to those in red soil. The oak regime for this wine is 100% French oak, with 20% new.
Winemaker Comments
Brokenwood has managed the Mistress Block Vineyard and made wine from it since the late 1980s. The vineyard is now 49 years old and is planted on a steep, east facing slope. Perfect to avoid the summer heat. The dark loam soil absorbs the heat and then the grapes are in shade for the latter part of the afternoon. If we have said it once, we have said it a million times, the word normal just doesn't exist for the Hunter Valley. There was a three week turn around in picking compared to 2014, and most Semillon was off in the last week of January. It was a very dry winter of 2014 with only 54mm of rain from May to July. A very good budburst and spring, but then a cold and wet December resulted in quite large canopies and disease pressure. Thankfully all of our fruit is handpicked and the vineyard team did a great job of getting clean, sound fruit in. This vintage is stylistically on song, a smaller production overall due to the East Coast low hanging around at the end of January to early February period.
Food Pairing
Osso bucco, steak, lamb and cheese.
Drink
Drinking well now but will reward medium to long cellaring.