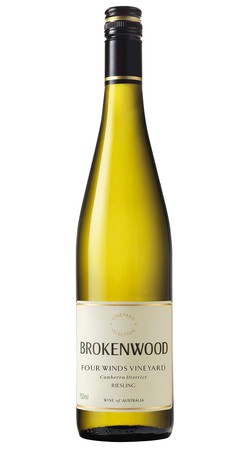 2015 Four Winds Vineyard Riesling
Canberra District, ACT
A very bright colour with excellent green hues. The Canberra district is noted for apple and stone fruit characters and this wine has plenty of both. There are some florals as well.Vibrant palate with citrus and crunchy apple acidity, this is balanced nicely with the residual sugar. A wine of great finesse and flavour.
CRU $189.00 SVC $178.20
Wine Profile
Vinification
The fruit was transported to the Hunter Valley and whole bunch pressed. The free run was then fermented cold in stainless steel while the pressings went to older barrels. These then had a wild fermentation. Final step was to make sure the two parcels worked together as a blend. They did!
Winemaker Comments
Brokenwood Wines is approaching 45 years, and in its 43rd vintage, but we're not resting on our laurels. Our first Riesling from the Canberra District was the 2013, and it was very well received. This vintage makes a welcome return after the frost wiped out the 2014 crop. This small grape growing area is half way between Canberra and Yass and the home to some very fine wineries such as Clonakilla and Helms. As well as spicy Shiraz, the area has been making a name for itself with racy, slatey Rieslings.
Food Pairing
A perfect match with Asian or any seafood.
Drink
Best consumed over the medium term.