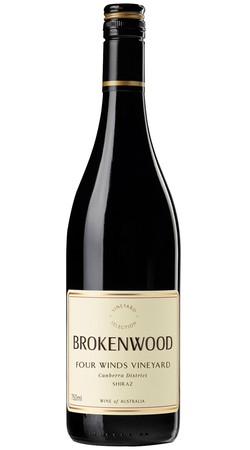 2014 Four Winds Vineyard Shiraz
Canberra District, ACT
Being from a cooler year - medium density colour. The combination of region and whole bunch has given the aroma a real red spice/ginger lift to it. Quite intriguing aromas. The palate starts out with soft red berry flavours and long fine tannins. Low oak impact but some vanilla sweetness does compliment the savoury fruit element. A Murrumbateman Shiraz that epitomises the cool climate style that Australian wine drinkers are devouring rapidly.
CRU $346.50 SVC $326.70
Wine Profile
Vinification
Hand-picked, the fruit was transported to the Brokenwood Winery for vinification. Bunches were de-stemmed, with 20% remaining as a whole bunch component for fermentation in open vats. A three day cold soak was followed by 10 further days on skins for fermentation. Gentle plunging twice daily. The pressed wine went straight into a one year old 2800L French cask for maturation. Bottled January 2015.
Winemaker Comments
Brokenwood's second release of Murrumbateman Shiraz from the Four Winds Vineyard. This small, cool climate viticultural region is half way between Canberra and Yass and the home of some very fine wineries such as Clonakilla and Helm. As well as spicy Shiraz, the area has been making a name for itself with racy, slate like Rieslings. A growing season remembered for the wrong reasons, with a huge frost that affected much of southern NSW and Victoria on Friday 18th October. The damage partly from very low winter rain, 200mm in the prior 6.5 months and resultant early bud burst. No Brokenwood Riesling and a small make of Shiraz. There was excellent rainfall over the next 6 months and a cool summer. Our Shiraz picked on 14th March 2014.
Drink
Best consumed over the medium term.